BlackBerry KEYone: Release date, price, photos and features of the 2017 BlackBerry phone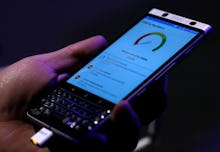 It's 2017, and BlackBerry is still around, believe it or not. The new BlackBerry phone, the BlackBerry KEYone, is coming soon. BlackBerry officially showed off the KEYone, originally called the BlackBerry Mercury, at Mobile World Congress in Barcelona. 
Here's everything you need to know about the latest BlackBerry model, including the KEYone's price, features, release date and photos.
BlackBerry KEYone release date
The BlackBerry KEYone has a reported release date of April 2017. There's no specific release date or time set just yet.
BlackBerry KEYone price
The BlackBerry KEYone's price seems to have been leaked by an Indian online retailer, GSMArena reports. The leak said the KEYone costs 39,999 rupees, which converts to just under $599. Of course, any leak must be taken with a grain of salt, since none of this has been verified by BlackBerry. 
BlackBerry KEYone features
The BlackBerry KEYone's most distinctive feature is, of course, its physical keyboard — something BlackBerry lovers can't do without. This keyboard is special, though, because its keys can be used to launch apps. It's also nicely backlit. 
The KEYone has a 4.5" display with a 1620x1080px resolution. It has a 12 MP camera — the same as the iPhone 7. It runs on Android Nougat 7.1. 
BlackBerry KEYone photos
Check out some photos of the BlackBerry KEYone below: