When is the 'Love Actually' reunion airing? Here's the premiere date, channel and more.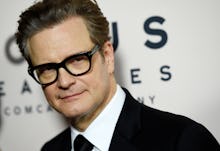 The day after Valentine's Day, director Richard Curtis announced he would be directing a Love Actually reunion. Set 14 years after the first ensemble movie, the short film will feature most of the original cast and will — unlike the original Christmas-set film — be getting a spring release.
When will the Love Actually reunion premiere?
The Love Actually reunion film, titled Red Nose Day Actually, will be released first in the U.K. on March 24, the same day as Red Nose Day. The holiday, celebrated every two years, began as a campaign to raise money for kids in the U.K. and Africa, and is marked by a BBC One television event where comedy and documentary films are shown. 
The short film won't make its way stateside until May 25, when NBC airs its own Red Nose Day special for Americans. 
"We hope to make something that'll be fun — very much in the spirit of the original film and of Red Nose Day — and which we hope will help bring lots of viewers and cash to the Red Nose Day shows," Curtis said in an interview with the BBC. 
What Love Actually cast members are returning?
Despite being big names and having major careers, many of the original cast members are returning for the short — including Hugh Grant, Keira Knightley, Colin Firth, Liam Neeson, Bill Nighy, Andrew Lincoln, Chiwetel Ejiofor and Rowan Atkinson.
Emma Thompson, however, is a notable exception. While doing press for her latest film, Beauty and the Beast, the actress explained that the death of Alan Rickman, who played her onscreen husband in the original film, made it difficult for her character to be included in the reunion.
"Richard wrote to me and said, 'Darling, we can't write anything for you because of Alan,' and I said, 'No, of course, it would be sad, too sad,'" Thompson told reporters. 
What's the reunion about?
Other than knowing the short will catch up with the original characters since the last film, plot details are thin. Nevertheless, Martine McCutcheon, who played Hugh Grant's love interest, Natalie, the first time around, revealed she's once again filming with the actor. On the British show Loose Women, she also expressed some of her hopes for her and Grant's characters. 
"I'm hoping me and Hugh are still together because we're filming together!" she joked. "I'd love for them to have a couple of kids and for him to still be doing the silly dancing." 
We'd love to see Hugh Grant dancing again, too.
Mic has ongoing Love Actually coverage. For more information on the film, check out our Love Actually hub here.