'The Walking Dead': How to watch season 7, episode 12 online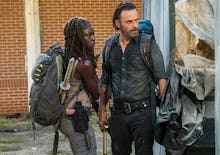 Now that Alexandria has a new ally against Negan in the Scavengers — aka the folks who made Rick fight in a makeshift zombie-gladiator coliseum — its residents need to find new weapons to satisfy their end of the bargain. Sounds like it's time for characters on The Walking Dead to start doing what they do best: walking. 
That seems to be the case for episode 12 of season seven, "Say Yes," which should focus on the show's most beloved couple — sorry, Glenn and Maggie, that title would be yours if you were both still alive! — Rick and Michonne (Richonne?) scavenging for supplies. Here's the synopsis for the next episode, per AMC: 
Members of the group scavenge for supplies. Meanwhile, back in Alexandria, someone must make a morally challenging decision.
However, if any Walking Dead fans don't have TV access on Sunday, how can they watch the new episode online? 
It's tricky, especially if you don't have a cable subscription that includes AMC. The network has a next-day streaming partnership with Hulu, but it doesn't include The Walking Dead since the show premiered before the deal was in place. For non-cable users, the fastest way to watch the new episode is by purchasing the individual episodes on iTunes, Amazon or Google Play the day after they air. 
However, if you do have a cable subscription, it's a bit easier. Simply log onto AMC's website the day after an episode premieres and it's available to stream. All you have to do is use the login with your cable provider. 
Hopefully, Rick and Michonne end up finding enough guns to appease their new allies. It's not like there's another community — one by the ocean, perhaps — with a fully stocked arsenal, one that was previously visited by an Alexandrian. Nope, that'd be too convenient. 
The Walking Dead returns to AMC at 9 p.m. Eastern on Sunday. Check out a sneak peak of "Say Yes" below. 
Mic has ongoing coverage of The Walking Dead. You can follow our main Walking Dead hub here.