'MLB The Show 17' Release Date News: MLB Network presentation could break new ground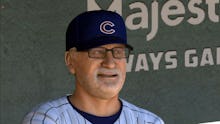 On Thursday, Sony San Diego Studios introduced their newest element of presentation for MLB The Show 17 during a Twitch livestream. This year's game will now feature MLB Network presentation. 
The new layer of imagery and audio will include the use of ShowTrack. That's a package of statistical overlays and reproduced highlights that are designed to enhance the immersion and the gamer's experience while mimicking the presentation we see when we watch a real baseball game on the network.
MLB The Show 17 MLB Network presentation: How it works
YouTube user Operation Sports breaks down the key elements of the stream in the video below:
You have the option to turn it on for every game, or to pick and choose which contests have the extra layer of presentation.
If you're playing franchise mode, the schedule will designate high-profile games for MLB Network broadcasts.
Varying up the presentation style in a sports game is a concept that hasn't been explored enough. NBA 2K17 took a step in this direction when it introduced different commentary teams.
However, that was simply a different alternative on the audio side–and you couldn't choose the commentary team you wanted.
What MLB The Show 17 is doing is primarily visual. It has swapped out two-thirds of its commentary team replacing Eric Karros and Steve Lyons with Harold Reynolds and Dan Plesac.
If the varied and customizable presentation is a hit with fans of The Show, it wouldn't be surprising to see other sports gaming franchises follow suit.
More sports gaming news and updates
Are you a sports gamer? Check out more content from Mic, including news on Tips on leveling up your NBA 2K17 MyPlayer, Playing QB in Madden 17 and the latest information on MLB The Show 17.