JCC Bomb Threats: Juan Thompson arrested in St. Louis in connection to at least 8 threats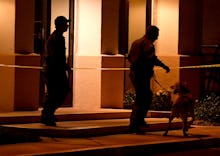 An arrest has been in made in connection with at least some of the bomb threats against Jewish Community Centers nationwide, ABC News reported on Friday. 
The suspect is 31-year-old Juan Thompson, who was arrested by FBI officials in St. Louis on Friday morning. He appears to be the same Juan Thompson who was fired from the Intercept for manufacturing fake sources. 
According to the charges filed against him in New York, Thompson is accused of making "some of the JCC threats" as part of a plan to "harass and intimidate" a woman he had been harassing since the end of their romantic relationship in July. The charges allege that Thompson sent "defamatory emails and faxes" to his victim's employer, including one saying that she had been pulled over for drunk driving and was being sued for spreading a sexually transmitted disease.
The charges allege that Thompson made at least eight threats against JCCs, after which he tried to frame his victim for those threats.
In a pinned tweet on his Twitter account, Thompson accuses his ex-girlfriend of calling in a bomb threat under his name — an accusation that matches key details from the unsealed court document on the JCC threats.
Betsy Reed, editor for the Intercept, issued the following statement on its former employee:
Speaking about Thompson's arrest, New York City Police Commissioner James O'Neill said, "The defendant caused havoc, expending hundreds of hours of police and law enforcement resources to respond and investigate these threats. We will continue to pursue those who pedal fear, making false claims about serious crimes."
Nationwide, there have been five waves of bomb threats against JCCs and Jewish schools this year. The charges against Thompson indicate that he is only believed to be responsible for some of those threats — it's not yet clear if Thompson's arrest is connected to a larger investigation into those threats.
March 3, 2017, 11:34 a.m.: This story has been updated.