Netflix's 'Burning Sands' is a tale of brotherhood and the dangers of black frat hazing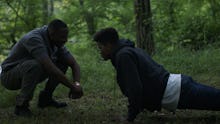 On March 10, Netflix will be releasing Burning Sands, a new original movie directed by Gerard McMurray, who is making his feature film debut after serving as an associate producer on Ryan Coogler's Fruitvale Station. Burning Sands features a stellar ensemble led by American Crime's Trevor Jackson, and is a powerful, intense and, at times, disturbing look into the fraternity culture at historically black colleges and universities. 
Burning Sands takes place during the Lambda Lambda Phi fraternity's "hell week," culminating in "hell night," the last hurdle for the pledges at the fictional Frederick Douglass University. Throughout Burning Sands, we see the pledges lean on each other during increasingly stressful times, doing everything they can not to "drop'" from the line. 
Jackson plays Zurich, the central protagonist, who has to juggle his relationships, schoolwork and responsibilities as a fraternity pledge, all while seemingly attempting to discover his own reasons for wanting to join Lambda Lambda Phi. He at one point is unable to answer that simple question when confronted by a big brother.
Academy Award-nominated Alfre Woodard portrays Professor Hughes, a character who more than once tries to hand Zurich a life-line, at one point quoting Frederick Douglass, stating, "it is easier to build strong children than to repair broken men." And this is a theme, in particular, that runs deep throughout the film. 
The first trailer for Burning Sands dropped last month, and reactions have thus far been split, with some fearing that the film targets black fraternities. And while much of the film does highlight illegal hazing in fraternities, Burning Sands is so much more than that, and director McMurray hopes that audiences wait until after they see the film to judge it. 
McMurray told Mic that Burning Sands "was not meant to be a national outcry," stating that the story is "merely a tale about brotherhood and also the complicated path to manhood for black men." As for Burning Sands' commentary on black fraternities, the director explains that "the film is not an indictment of the culture, but only a brief introduction to it."
What Burning Sands is at its core, though, is a tale of brotherhood, family and unity — themes that drew Jackson to the lead role of Zurich. Jackson told Mic that he wanted be a part of this film to highlight the "unity between black men." 
"A lot of black men have a hard time showing affection and love to one another," Jackson elaborated. "I think this film really shows the importance of unity and togetherness." Of course, the actor was also drawn to McMurray "and his passion for the project," as well as seeing the film as "a great opportunity acting-wise to grow and learn."
One of those learning opportunities for the star came in the form of sharing scenes with Woodard, who most recently appeared in two Netflix original series, Luke Cage and A Series of Unfortunate Events. "It was an honor [working with Woodard]," Jackson explained. "She is a beautiful spirit and so encouraging and kind." 
Jackson stated further that "it is amazing to meet someone that you looked up to and have wanted to work with," commenting that "it is easy to act when you're acting with someone like that."
Jackson is hoping that his performance, and growth in Burning Sands, leads him to tackle even more diverse roles going forward. "I want to continue to unravel myself and experience different parts of myself to be able to tap into different characters," he explained. "I love film; I love watching movies; I love great actors. I love seeing someone transform on screen."
"That is something I'm working towards," he said. "I want to go after roles that are not myself. I like meaty, juicy roles that I can really dive into. I just want to do great work. Work that provokes thought and helps shape the world as well." And Jackson does hope that he gets a chance to work with McMurray again, explaining that "the synergy was there."
As for McMurray, while he is looking forward to the future and the opportunities "to do all kinds of stories," right now he is focused on Burning Sands. He hopes that audiences can enjoy the film for what it is, stating that he wants viewers to be "free-thinkers." 
McMurray explains that Burning Sands was shot in just 18 days, with the film's climax being filmed in just four hours under difficult circumstances. So, when McMurray does move onto a new project, he hopes his "next step is definitely to do a bigger film—more than 18 days." But for Burning Sands, his wish is for audiences see that it is a film that goes "much deeper [than hate]," because what the movie is really about is "family" and "brotherhood."
Burning Sands will be released Friday, March 10 on Netflix.
Mic has ongoing coverage of Netflix. Please follow our main Netflix hub here.