Chris Brown is "dancing with death": 5 explosive insider claims in 'Billboard' story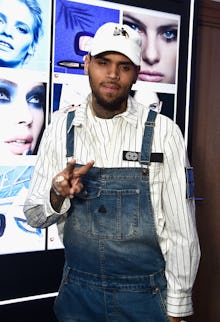 Chris Brown's mental and emotional health has reached an alarming low point, according to an extensive report in Billboard. The article features accounts from the singer's friends and former employees who revealed details about Brown's abusive behavior and drug addictions in private, and added context to the singer's recent public incidents of violence. 
The singer denied the reports Thursday and said negative headlines are only brought up about him when he's promoting a tour, party or an album. "Y'all gotta stop with this angry shit. Going through drugs and all this other shit. I'm tired of reading about some shit as soon as I got something popping," he said in a video. He later added, "I am not hurting out here. Trust me."
Here are five things we learned about Brown in the report.
Drug addiction
The first paragraph of the the piece sets a scene with Brown sitting in his living room in 2016, surrounded by empty cups that were filled with "lean," a mixture of cold syrup medication and soda. This is "his comedown of choice after a coke or Molly binge," a former employee revealed. He also hadn't been taking his medication for his bipolar II disorder. He was diagnosed with the condition in 2014. Another employee claimed they saw Brown sniffing cocaine while on the set of a Vanity Fair Italia shoot in February 2016, and that he had been using the drug more frequently. The article stated he has also been using Xanax.
Losing support 
Brown developed a controlling nature and drove away most of his key team members in the past year. "He's got no security, no management," a former security team member told Billboard. In May 2016, his former manager, Mike Guirguis, quit after Brown assaulted him following disappointment with the performance of his album Royalty.  
According to the lawsuit, Brown, who was in a "(drug-fueled) rage," led Guirguis to a private room down the hall, closed the door and said: "We are going to go for 30 seconds" — fight, that is. Guirguis turned away to leave, but, the suit alleges, Brown smashed him in the face with his fist. As he fell backward, Brown punched him three more times in the face, jaw and neck. Guirguis was stunned.
The same month, on the beginning of the European leg of his One Hell of a Nite Tour, Brown threatened tour manager Nancy Ghosh. She quit immediately. One former member of his security team said in the article that this left the tour out-of-order.  
"Once he did what he did to Mike G, there was no structure," that former security team member says. "We had no manager telling us what to do or where we were going. He would make people sleep on the bus [instead of hotels] when he was mad at them. He was threatening people and cops. He was calling himself the devil." 
His publicist of three years, Nicole Perna, quit in June as well after Brown blamed her for not getting more press for his clothing line Black Pyramid.
Despite all of the drama that happened last year, Brown somehow managed to launch his new Party Tour for 2017, which which will include 50 Cent, French Montana and Fabolous. But it is uncertain how it will unfold given what went down during his last tour. 
Money issues
With his health spiraling out of control, Brown may also not be making the wisest decisions about his finances. Per the Billboard report:
Meanwhile, Brown, who recently posted an Instagram photo of himself standing amid a fleet of sports cars and motor bikes, "spends money before he has it, whether it's cars, jewelry or drugs," says a former Brown team member. "He has no appreciation of it. He never wants to hear he has no money, and he blames everyone [else] when his funds run low."
Tracking his ex
Karrueche Tran, Brown's former girlfriend, filed a restraining order against Brown in February because she said he sent her death threats. Brown is believed to have denied any wrongdoing — but according to an insider, Brown was still tracking her every move after their breakup in 2015: 
"He's always on social media, looking up who Karrueche was with, what she was looking like, what club she was at, who posted to her Instagram." In her restraining order request, Tran wrote that in February 2017 Brown "threatened to kill me to others; threatened me via text messages; [and] threatened to harass my friends," and that a few years ago, he had "punched me twice in the stomach" and "pushed me down stairs."
Comparisons to Bobby Brown
One former member of Chris Brown's team compared the 27-year-old singer to Bobby Brown, the 1990s R&B/pop sensation and member of New Edition, who went through a similar downward spiral with drug addiction during his career. Like Chris, Bobby copes with bipolar condition as well. 
"He's basically the new Bobby Brown," says a onetime member of Chris Brown's management. "Think about how big [Bobby] was in the '80s — but you know he was a bad boy." 
Mic has ongoing Chris Brown coverage. Please follow our Chris Brown hub here.