When does the 'Beauty and the Beast' movie come out? Release date, cast and more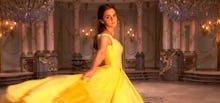 In just two weeks time, we'll finally be able to behold Disney's live-action Beauty and the Beast. The movie will make its way to theaters on March 17, but before we get to see Emma Watson channel Belle, below are some things you may want to know about the film. 
Who's in it?
In addition to Watson, Disney has snagged a pretty impressive cast for the film. Dan Stevens — best known for Downton Abbey and now Legion — will play Watson's love interest, the titular Beast. Welsh actor Luke Evans will play the villain, Gaston, and Josh Gad will play his sidekick, LeFou. 
In non-human parts, Beauty and the Beast has Emma Thompson playing Mrs. Potts, Ewan McGregor as Lumiere, Ian McKellen as Cogsworth and Stanley Tucci as a new character, Cadenza. 
What else do we know?
In addition to Tucci's new character, it appears director Bill Condon will be taking other creative liberties.
There's potentially some LGBTQ representation, for example, as LeFou is rumored to be queer in Condon's take on the story and will express some sort of desire for Gaston — the rumors don't really get any more specific than that, as yet. Gad addressed this at the Hollywood premiere of the film, which took place on March 2.
"I think along the way he starts to question things, and that's an element that added a really beautiful complexity to his character," the actor said. "There's also, as I'm sure has been discussed over the last 24 hours, a lovely moment at the end of the film that I think I'll let speak for itself."
Anyway, we'll probably get a better sense of how the movie differs from the animated '90s film once it hits theaters on March 17. 
Mic has ongoing coverage on Beauty and the Beast and Emma Watson. For more information you can check out our Beauty and the Beast hub here and our Emma Watson one here.