Donald Trump is already breaking a huge promise on the Keystone pipeline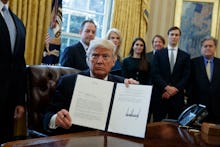 President Donald Trump issued orders in January to revive the review process on the Keystone XL and Dakota Access pipelines, asking for the approval of their construction to be expedited.
Trump's rationale for the pipelines' creation was that they would create good jobs and revitalize American manufacturing companies, as he signed a memorandum requiring the pipelines be constructed with steel and other equipment made within the United States.
But the White House is already breaking that promise, telling Politico the Keystone XL pipeline won't be subject to that standard.
"The Keystone XL Pipeline is currently in the process of being constructed, so it does not count as a new, retrofitted, repaired or expanded pipeline," a White House spokeswoman told Politico.
In a Jan. 24 presidential memorandum, Trump instructed that "all new pipelines, as well as retrofitted, repaired or expanded pipelines, inside the borders of the United States, including portions of pipelines, use materials and equipment produced in the United States." 
Trump told CEOs of steel companies they would be "doing pipelines now" because of the new order.
"We put you heavy into the pipeline business because we approved, as you know, the Keystone pipeline and Dakota, but they have to buy, meaning steel, so I'll say U.S. steel, but steel made in this country and pipelines made in this country," Trump told United States Steel CEO Mario Longhi at a Feb. 23 meeting of business leaders at the White House, according to CNBC.
Trump even touted the requirement in his first joint address to Congress on Tuesday.
"We have cleared the way for the construction of the Keystone and Dakota Access pipelines — thereby creating tens of thousands of jobs — and I've issued a new directive that new American pipelines be made with American steel," he said.