Nintendo Switch Issues: Blue screen and orange screen bugs reported — how to fix the error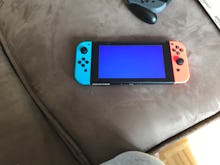 The Nintendo Switch release date is finally upon us, and fans are spending the day diving into Zelda: Breath of the Wild and Snipperclips. But not everyone who snagged the system early can enjoy Nintendo's latest console. 
While you've been foraging for items in Hyrule and quick-drawing your pistol against friends, some gamers have been plagued by a giant blue error screen, along with a number of other issues.
If you're experiencing any bugs, errors or issues with your Nintendo Switch, here's what you need to know.
Nintendo Switch issues: Some users are experiencing blue-screen errors and bugs
It's not just Windows users who are seeing a blue screen of death. Reddit user supportdevil was one of the first unlucky victims to report having their Switch unit give them a big fat nope. According to the Reddit post, supportdevil "played a bit [of] BotW, then the screen went white and the Switch got very noisy." When supportdevil restarted the console, they got an infamous "blue screen of death." Yikes.
It gets worse.
Nintendo Switch issues and bugs: There's an orange screen of death, too
Like the Joy-Con controllers, Nintendo Switch error screens apparently come in two colors: blue and orange. 
Reddit user alphaping was greeted with a warmer — but still troubling — hue on their error screen. It's unclear what happened, but the Switch owner said they simply placed the device in its dock overnight and found an orange screen the next day.
Nintendo Switch issues: Other bugs and errors
Some Switch users are reporting display-flickering issues, too. Reddit user JBRipley reported it only occurs during Zelda. This may have to do with how taxing on the console the massive open-world Breath of the Wild is, compared to less-intensive games like Shovel Knight or Super Bomberman R.
Here's a tweet from the same user that shows this Nintendo Switch issue in action.
In addition to screen-color-related issues, others have mentioned Wi-Fi issues that have left them unable to get the day one update. 
Nintendo Switch Issues: How to fix the bugs
It's still early, so official fixes aren't quite available yet — though some users online have found some luck in resolving their issues. In the case of the orange screen of death, redditor alphaping said they were able to fix the issue by shutting the console off and turning it back on. Another option is letting the device run out of battery power before charging it back up again.
Unfortunately, users with the blue screen of death may have less luck. User supportdevil said they chatted with Nintendo and learned their Switch was, in fact, dead. 
If you're having Wi-Fi trouble with your Nintendo Switch and you're at home, you may want to switch from your 2.4GHz option to 5GHz, or vice versa, according to another Reddit user.
But when all else fails, make sure to check Nintendo's official error code site for the Switch — and pray to Mario your Switch doesn't die on you on launch day.
Check out more Nintendo Switch coverage
Looking for more Nintendo Switch news? Learn why the Switch cartridges taste so bad. Check out our comparison photos sizing up the Switch to the Wii U GamePad (part one and part two) and the best way to get alerts when new stock arrives. Then take a look at a leaked video of the Nintendo Switch menu interface and dark mode features.