Who is Sergey Kislyak? Here's what to know about the Russian ambassador Sessions met.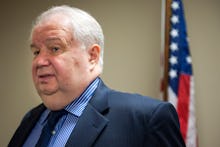 As members of President Donald Trump's Cabinet get taken down for undisclosed communications with Russia, there's been one diplomat at the heart of it all: Russian ambassador Sergey Kislyak.
Both Michael Flynn and Attorney General Jeff Sessions have come under fire for their interactions with Kislyak, who has served as the Russian ambassador since 2008.
Who is this Russian diplomat at the center of some of the Trump administration's biggest scandals? Here are a few things to know.
He has a wide range of foreign relations experience
Kislyak, an expert on arms control negotiations, has spent his career in foreign relations with a particular emphasis in the United States. 
The diplomat's first stint in the U.S. came in the 1980s, when Kislyak worked at the Russian embassy in Washington from 1985 to 1989. Kislyak then went on to become Russia's first NATO representative and served as the country's ambassador to Belgium from 1998 to 2003. 
Prior to his U.S. ambassadorship, Kislyak served as a deputy foreign minister in Moscow, where he oversaw arms control issues and Russia's relationship with America.
"[Kislyak] is a brilliant, highly professional diplomat — affable, pleasant, unbelievably good at arms control and Russian-American relations for decades," Sergei A. Karaganov, who often advises the Kremlin on foreign policy, told the New York Times.
Foreign policy analyst Vladimir Frolov described Kislyak to the New York Times as "Russia's top authority on the United States."
He's been critical of the U.S.-Russia relationship — but also has hope
In his role as ambassador, Kislyak hasn't sugarcoated the relationship between Russia and the U.S., saying in November that the two countries were "living through the worst time in our relationship," CNN reported. He said arguments led to a situation in which "we have learned to live without you and you have learned to live without us."
Kislyak has also been harshly critical of the United States At an event at Stanford University in the fall of 2016, Kislyak said America's most serious problem was its belief in its exceptionalism, according to the New York Times.
"The difference between your exceptionalism and ours is that we are not trying to impose on you ours, but you do not hesitate to impose on us yours," Kislyak said. "That is something we do not appreciate."
The Russian ambassador has been pushing for a closer relationship between the two nations. Kislyak invited journalists to the embassy in 2015 to advocate for a better rapport between Russia and the United States, and said in an address at the World Affairs Council that he hoped subsequent generations would see the countries' current divisive relationship as "something from the history manual."
He's widely respected in Washington
During his tenure in Washington, Kislyak has developed a close network of American contacts. "I personally have been working in the United States for so long that I know almost everybody," Kislyak said at the Stanford event, the New York Times reported.
It's clear the Russian ambassador has earned the respect of his Washington colleagues — even though, as former U.S. Ambassador to Russia Michael McFaul told CNN, "You're never confused about what country he's representing."
"He's a very active ambassador in the positive sense," McFaul told the Washington Post.
In an interview with the Guardian, Evelyn Farkas, the Pentagon's former chief Russia policy official, described Kislyak as "active, informed and smart," though she noted he "won't budge" on policy disputes. 
"Not all of us, myself included, initially appreciated his very tough, in-your-face style," Dimitri K. Simes, the president of the Center for the National Interest and an advocate of closer Russian-American relations, told the New York Times about Kislyak. "But we gradually came to develop a grudging respect for him as someone who was really representing the positions of his country."
The Washington Post described the ambassador as someone who's "[quiet], a bit rumpled and does not seek publicity," opting for one-on-one lunches and small dinner parties over media appearances.
There are allegations he's a spy
Underneath Kislyak's well-respected diplomatic image, however, are concerns the ambassador has more nefarious intentions.
U.S. government officials cited by CNN have alleged Kislyak is a Russian spy and a recruiter for other Russian spies in Washington — which, if true, would raise further concerns about any communications between the Russian ambassador and the Trump administration. 
"It's certainly possible," Alina Polyakova, deputy director of the Atlantic Council's Dinu Patriciu Eurasia Center in Washington, told the Guardian. "During the Soviet days, the embassy was known to serve that function. As an envoy for the country he represents, Kislyak is very shrewd. From another perspective, he's quite manipulative and nefarious in some ways."
Others aren't quite so sure.
"That strikes me as pretty odd," Steven Pifer, former U.S. state official and ambassador to Ukraine, told the Guardian. "Everything I've seen, he's been a Russian diplomat."
The Russian government has been quick to deny the allegations. Kremlin spokesman Dmitri Pescov attacked the "depersonalized assumptions of the media that are constantly trying to blow this situation out of proportion," CNN reported, and said "nobody has heard a single statement from U.S. intelligence agencies' representatives regarding our ambassador."
The allegations were further ridiculed by Russian Foreign Ministry spokeswoman Maria Zakharova, who called the reports "total disinformation."