Nintendo Switch Availability Near Me: Find the elusive console today with online trackers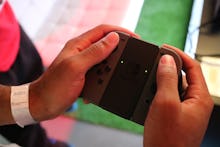 Let's just say (hypothetically) you didn't pre-order a Nintendo Switch, for whatever reason. And now you desperately need to find one and buy it on launch day. Thankfully, there's a website that can help you track down nearby Switch units available in your area.
Nintendo Switch availability near me: How to check to see what stores have it in stock
When you're looking for the Switch, store websites like GameStop or Best Buy can be hard to navigate, and will sometimes tell you that an item is unavailable or only available for in-store pick-up.
If you just want to see who still has stock left, availability trackers like nowinstock.net or stockinformer.com will help you out immensely. These sites aggregate any retailer who's listed as having available stock for purchase. Bear in mind that when you use a site like this, there's no guarantee that they'll be anywhere near you. There's also no guarantee you won't get majorly price-gouged by sites like eBay, so your mileage may vary.
Nintendo Switch availability near me: Check local stores using availability trackers
If you'd rather try your luck at going to a store in person, zoolert.com has a local store checker function you can use to make sure you don't waste your time hitting stores with no available products. If you're looking for the Switch at Best Buy, for instance, you'll be able to put in the stock keeping unit code (called a SKU) for the item you're searching for — you didn't hear it from us, but it looks like 5670003 for the Switch with grey Joy-Cons and 5670100 for the neon red and blue version — and then input your ZIP code.
You can search within a 10- or 25-mile radius of your ZIP code, and once you've done that, just scroll down the page to see what stores have available stock, so you can make a note of who still has the console and hit those stores, avoiding ones that have already sold out.
It'll take some doing, but in spite of the panic that always seems to surround console launches, there's still a chance you'll be able to find the Switch and start playing Legend of Zelda: Breath of the Wild or, uh... Just Dance 2017. Either way, happy hunting if you decide you need to have a Nintendo Switch and don't want to wait for a restock!
More Nintendo Switch news and updates
If you're just getting caught up, here's everything you need to know about the console's price, release date, preorders, battery life and our hands-on review. And if you're interested in the Nintendo Switch's games, here's info on the new Super Mario Odyssey, Legend of Zelda: Breath of the Wild, Splatoon 2, Xenoblade Chronicles 2, 1-2-Switch and the goofy boxing game Arms.