'Zelda: Breath of the Wild' Outfits: Link looks simply fabulous in his women's Gerudo suit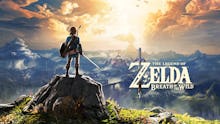 The Legend of Zelda: Breath of the Wild is a lot of things: It's a glorious reinvention of a legendary franchise, a marquee launch title for the Nintendo Switch and perhaps one of the most effusively praised games in years. There are plenty of reasons to look forward to it.
It's also a game where you can play dress-up with series hero Link in more ways than ever before. 
What follows is a very minor spoiler for a certain quest in Breath of the Wild. Stop reading if you want to go in completely cold. But we're really excited about it, so hopefully it's worth the mild spoiler. 
Here it is: Link wears a (women's) Gerudo outfit, and he looks awesome.
Make Link look totally fabulous in Zelda: Breath of the Wild
Business Insider's Ben Gilbert wrote about one of his favorite quests in Breath of the Wild that involves the Gerudo tribe, which has been painfully MIA since the 1998 classic Ocarina of Time. The Gerudos are back in Link's newest adventure, and they still have the same strict no-dudes policy as always.
In Breath of the Wild, Link must find himself some Gerudo garb and disguise himself to get into their village. Here's what that looks like:
OK, let's be real: Link rocks this look. It's a pretty fashion-forward move for Link. It actually serves a practical purpose, too, as it helps Link stay cool in the game's arid desert environment: Failure to dress properly in hot or cold areas will result in death in Breath of the Wild. Mic gaming writer Brittany Vincent said she wore it throughout multiple dungeons and loved the way it looked.
On a more serious note, it will be interesting to see the larger critical reaction to this as more people play the game. Will angry male gamers rant on 4chan about how Link's "crossdressing" is pushing a secret agenda of political correctness? Will they argue that this is a sign a secret cabal of social-justice warriors is controlling the games industry? Who knows. Others might argue that Link's Gerudo outfit is a somewhat insulting move from a series that famously never has a female protagonist.
Zelda has flirted with this concept before, as Link could wear a dress (with unique bonuses) in Tri-Force Heroes. That was pretty positively received overall, as opposed to something like Cloud's poorly aged crossdressing scene in Final Fantasy VII. It all depends on the execution. 
In this case, all that matters is how goddamn fabulous Link looks. We love it.
Check out more Nintendo Switch news and coverage
Check out our comparison photos sizing up the Switch to the Wii U GamePad, along with details on the console's price, release date, pre-orders, battery life and our hands-on review. If you're interested in the Nintendo Switch's games, here's info on the new Super Mario Odyssey, Legend of Zelda: Breath of the Wild, Splatoon 2, Xenoblade Chronicles 2, 1-2-Switch and the goofy boxing game Arms.