The 'This Is Us' season finale synopsis is out and we're already crying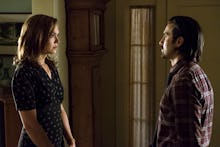 You may want to go buy bulk tissues before the This Is Us season finale. The synopsis for episode 18 has been released and we're already crying. 
[Editor's note: Warning spoilers ahead for the upcoming episodes of This Is Us.]
This Is Us season finale plot details
The title of the season finale is "Moonshadow." The name could be a reference to the moon necklace Jack gifted Rebecca earlier in the season. You know, the same necklace that she wears today, even though she's now married to Miguel. 
Unfortunately the synopsis doesn't say anything about the necklace. Check out the plot description, via TV Guide:
In the first-season finale, Jack heads to Cleveland to make things right with Rebecca on the night of her first big gig with the band. Then, Randall, Kate and Kevin make big decisions about their futures.
Viewers are still being kept in the dark about how Jack died, and the finale may finally reveal his cause of death. When the series last left off with Jack and Rebecca, the two had got into a fight about Rebecca going on a multi-state tour with her ex-boyfriend. Jack was initially willing to support his wife while she pursued her dreams on the road, but had an issue with Rebecca not telling him how close she used to be with her bandmate. 
Will Jack get into an accident while on his way to apologize to Rebecca? Will the two be able to make amends before something horrific happen? Are we possibly freaking out for no reason at all? 
The episode will also wrap up some plot lines for Randall, Kate and Kevin. It's not clear what big decision Randall will be making, but it's easy to assume Kate and Kevin's storylines have something to do with their relationships. Kevin seemed to be moving in the right direction with his ex-wife, Sofie, but that could change in a second. Meanwhile, Toby decided to postpone the wedding because Kate couldn't open up to him about how her father died. A big reveal from Kate could mean another step forward for the couple.
This Is Us finale air date
The season one finale of the NBC drama was supposed to air on March 7, but was bumped a week due to President Donald Trump's address to Congress. Instead, the penultimate episode will air this coming Tuesday, and will find the entire Pearson clan mourning the death of William. The season one finale will air on Tuesday, March 14 at 9 p.m. Eastern.
Mic has ongoing This Is Us coverage. For more This Is Us coverage check out the main hub for the show here.