Will Drake's 'More Life' album drop on Saturday? Everything we know about his new release.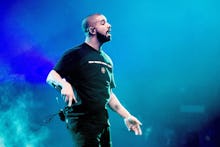 After Drake's manager announced that the rapper would drop his anticipated playlist album More Life on the next episode of OVO Sound Radio, rumors are circulating that the playlist will drop on Saturday.
While we don't know the release date for sure — OVO Sound Radio doesn't air an episode every Saturday — and we don't know what will be making up this playlist, here is what we have figured out about More Life.
Background on More Life
Drake released his last album, Views, in April, but in October the artist announced that he would release a playlist that would consist of original music. 
I'm off like mixtapes, I want to do a playlist. I want to give you a collection of songs that become the soundtrack to your life, so this More Life: The Playlist. Like I said, dropping in December. All original music from me. You might hear some tunes from the family on there. Just really excited. I had a great tour, I had a great summer. And most people would like go probably take a break, but for me I just want to get right back to it. Be with the people again. Boy Meets World Tour, coming up soon. U.K., I'll be there soon. Big up to U.K. massive. Everybody—Paris, Amsterdam, Sweden, anywhere we are touching down. But yeah, I just want to celebrate life. More life. That's what we live by. That's something that we don't take for granted.
Since October, he's gone on to release several songs from More Life, including "Sneakin'" with 21 Savage, "Fake Love," "Wanna Know (Remix)" and "Two Birds, One Stone." 
More Life reported tracklist
While we won't know for sure until More Life comes out, here's the reported track list for the playlist, courtesy of Genius.
1. Fake Love
More Life artwork
When Drake first announced More Love, he noted on Instagram that the playlist would drop in December. Clearly, that has not happened.
The album's cover features Drake's father, Dennis Graham, sporting a mustache and a pipe in mouth. 
Mic has ongoing Drake coverage. Check out the main Drake hub here.