Kesha opens up about her eating disorder in new PSA during ongoing Dr. Luke legal battle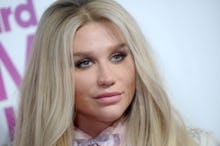 In light of National Eating Disorders Awareness Week, singer Kesha has released a video PSA sharing her own battle with an eating disorder. The 30-year-old singer tells anyone suffering from an eating disorder why it's so important to get help. 
"Eating disorders are a life-threatening illness that can affect anyone. It doesn't matter your age, your sex, your ethnicity. Eating disorders don't discriminate. If you feel like you need help or if you know anyone that may need help, please do not hesitate."
This is not the first time Kesha has publicly discussed or dealt with body image. On Feb. 25, the singer publicly outed Dr. Luke to Page Six for allegedly shaming her eating habits and weight gain, and also claiming that other producers in the industry refused to work with her because of it.
"There have been many times we have all witnessed her breaking her diet plan. This particular time — it happened to be Diet Coke and turkey while on an all-juice fast," Dr. Luke allegedly wrote in an email exchange with Kesha's manager, Monica Cornia.
Kesha has been in an ongoing legal battle to be released from Dr. Luke's label, where she is currently under contract. She accused the producer of rape, verbal and mental abuse, as well as withholding earnings from her. The singer released the emails to further provide proof about Luke's alleged abuse and in hopes to reverse a judge's decision to block her from recording with producers outside of her Luke's label.
Watch the eating disorder PSA below:
Mic has ongoing Kesha coverage. Please follow our Kesha hub here.