Donald Trump and Chuck Schumer are having a Twitter war over Russia's Putin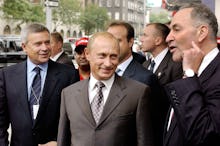 President Donald Trump clapped back at one of his top critics Friday, tweeting a photo of Sen. Chuck Schumer (D-N.Y.) with Russia's president and demanding an "immediate investigation" into their relationship.
"What a hypocrite!" the president said, alongside a 2003 photo of Schumer and Vladimir Putin at the opening of the first Lukoil gas station in the United States.
The tweet showed Schumer and Putin smiling over coffee and doughnuts at the New York outpost of Lukoil, one of Russia's biggest fuel companies.
Schumer quickly pushed back with a tweet of his own.
"Happily talk re: my contact w Mr. Putin & his associates, took place in '03 in full view of press & public under oath," he wrote. "Would you &your team?"
Schumer, a diehard Democrat who served alongside Hillary Clinton in the Senate, has been a vocal opponent of Trump's and called on new Attorney General Jeff Sessions to resign "for the good of the country" based on reports of his contacts with Russian officials during the 2016 race for the presidency.
"It would be of Alice and Wonderland quality if this administration were to sanction [Sessions] to investigate himself," Schumer said. 
Sessions, without admitting any wrongdoing, formally recused himself Thursday from investigating any matter involving contacts between the Trump campaign and Russia.
The attorney general reportedly isn't the only member of Team Trump who quietly met with the Russians.
The president's son-in-law and advisor, Jared Kushner, also had a brief meeting with Russian Ambassador Sergey Kislyak last year, according to the New York Times, and Trump's former national security advisor, Michael Flynn, resigned in scandal after reports that he didn't tell the whole truth about his pre-inaugural contacts with Russian officials.