How to Turn Off Nintendo Switch: Step-by-step guide to shutting down the new console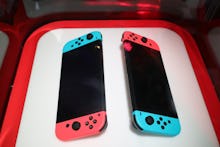 So you've managed to score a Nintendo Switch! Nice! Hopefully, you're having fun exploring the world of Hyrule in Zelda: Breath of the Wild or playing 1-2 Switch with your friends. Whatever you're doing, chances are you're going to want to turn off the Nintendo Switch at some point, but the platform's design makes that a little tricky.
If you're concerned about wasting precious battery when you're not playing, read on for a step-by-step guide to turning off the Nintendo Switch.
How to turn off the Nintendo Switch completely
According to Prima Games, the Switch's home screen only offers a sleep mode power down option, which will still use up a little bit of power since it's keeping your applications suspended. If you want to power down your Nintendo Switch completely, here's what you do:
1. Press and hold the power button on your Switch tablet, which is located in the upper left corner.
2. Continue holding until a menu pops up on the screen that allows you to select "Power Options."
3. From the "Power Options" screen, you'll have the choice of putting the console in sleep mode, restarting it or turning it off completely.
It's worth noting that this only works when you're using the device in handheld mode. You won't be able to access this menu with the Joy-Cons if you're playing on the TV with your Switch in the dock.
Then again, if you're using the Switch in its dock, that means it's charging automatically. So you won't need to worry about conserving battery life anyway, right?
More Nintendo Switch news
For more info on what Nintendo revealed during its livestream, here's where you can get details on the Nintendo Switch price, release date, pre-orders and battery life. If you're interested in the Nintendo Switch's games, here's info on the new Super Mario Odyssey game, Legend of Zelda: Breath of the Wild, Splatoon 2, Xenoblade Chronicles 2, 1-2-Switch and the goofy boxing game Arms.