Drake's 'More Life' is here: Streaming options for the new October Firm playlist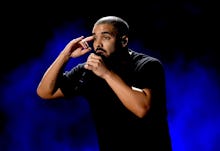 Drake's 2017 takeover begins now. After a previous pushback, the rapper finally kept to his word and brought us More Life on Saturday, a new playlist of original songs — not an album — that he wants to be the soundtrack for his fans lives. 
Drake's OVO sound radio will be streaming at 6:30 p.m. Eastern. According to the Apple Music DJ, they are putting the "finishing touches" on the album. You can stream More Life for free here. 
In October, Drake announced that he would be releasing a new project via an interview on his Apple Beats 1 show OVO Sound Radio. He explained its concept in this quote via Complex:
"I'm off like mixtapes, I want to do a playlist. I want to give you a collection of songs that become the soundtrack to your life, so this More Life: The Playlist. Like I said, dropping in December. All original music from me. You might hear some tunes from the family on there. Just really excited. I had a great tour, I had a great summer. And most people would like go probably take a break, but for me I just want to get right back to it. Be with the people again.
More Life cover
The cover of the album features a too cool throwback photo of his dad Dennis Graham smoking a cigar and writing on a notepad. 
Background on More Life playlist
So far, he's released three songs from the playlist including the bouncy "Sneakin" and his rap-sung "Fake Love," both about his trust issues with enemies and frenemies, and the chill and atmospheric "Two Birds, One Stone," which is more reflective. All these tracks are remnant of past production and themes on his previous albums.
This is a swift turnaround for Drake who is just coming off the high of his 2016 Grammy-nominated Views. The album was an exploration of Drizzy's many, many sounds, including R&B sampling on "Weston Road Flows," electro-pop on "Feel No Ways," dancehall on "Controlla" and pseudo trap records like "Grammys" featuring Future. So it's no shock he's providing an array of moods on this new release.
Drake stays on the move. He's currently in Europe through the end of March on his Boy Meets World tour.
Saturday, March 18, 6:22 p.m. Eastern: This story has been updated.
Mic has ongoing Drake coverage. Check out the main Drake hub here.