Arnold Schwarzenegger is leaving 'Celebrity Apprentice'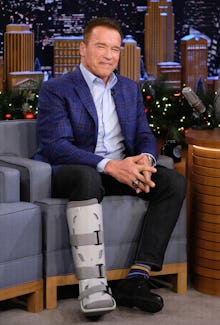 For Arnold Schwarzenegger and his Celebrity Apprentice hosting duties, it wasn't "You're fired" — it was "I quit."
In a statement obtained by NBC News on Friday, the actor and former governor of California announced his planned departure from the show, citing his contentious relationship with former host President Donald Trump as his reason for leaving.
"I loved every second of working with NBC and Mark Burnett," Schwarzenegger said in the statement. "Everyone — from the celebrities to the crew to the marketing department  — was a straight 10, and I would absolutely work with all of them again on a show that doesn't have this baggage."
That "baggage" began back in October, after Schwarzenegger refused to endorse Trump, then the Republican nominee for president. 
The move ruffled the notoriously thin-skinned Trump's feathers, and in January, he unleashed a string of disparaging tweets about Schwarzenegger's low ratings on the program — even going so far as to mention the former actor's political inclinations in the tweets themselves.
By February, the president had resorted to attacking Schwarzenegger on his track record as California's governor.
"Yes, Arnold Schwarzenegger did a really bad job as governor of California and even worse on the Apprentice ... but at least he tried hard!" he wrote. Trump, it's worth noting, is still an executive producer on Celebrity Apprentice.
While Schwarzenegger called his time on the show "a great learning opportunity," in an interview with Empire on Friday, he said Trump's unpopularity was directly to blame for the low ratings.
"When people found out that Trump was still involved as executive producer and was still receiving money from the show, then half the people [started] boycotting it," he said.
NBC has not announced whether Celebrity Apprentice will be renewed for another season.