'The Vampire Diaries' Season 8: The special meaning behind Steroline's "June Wedding"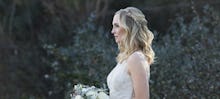 The penultimate episode of The Vampire Diaries is titled "We're Planning a June Wedding" and will find Stefan and Caroline (affectionately nicknamed Steroline) tying the knot in Mystic Falls. While the supernatural couple is no doubt in love, the wedding won't be your typical romantic union. They're using the event to draw out über villain — and Stefan's ex-girlfriend — Katherine.
Despite the false pretenses for the wedding, it will still be a very a special episode of the CW series. And the title is a bit of a love letter to longtime Steroline fans.
The special meaning behind "a June Wedding"
The episode 15 title has nothing to do with the actual month that Caroline and Stefan's wedding is taking place. It's actually a nod to episode one, when Caroline first laid eyes on Stefan. 
The pilot episode scene in question involves Caroline and Bonnie, who are discussing the mysterious new Mystic Falls student after school at the Mystic Grill.
"His name is Stefan Salvatore," Caroline tells Bonnie. "He lives with his uncle up at the old Salvatore boarding house. He hasn't lived here since he was a kid. Military family, so they moved around a lot. He's a Gemini, and his favorite color is blue."
"You got all of that in one day?" Bonnie questions her friend.
"Oh please," Caroline says. "I got all that between third and fourth period. We're planning a June wedding."
Of course, viewers know that Stefan went on to date Elena for multiple seasons. But Caroline and Stefan did finally together in season six. Although things were messy for a little bit — with Stefan traveling the world with another ex-girlfriend and Caroline raising children with Alaric — the two ultimately found their way back to each other and got engaged in season eight. You could say that this wedding was eight years in the making.
The Friday night episode is certainly a tribute to fans, and surprisingly the reference went over the head of star Paul Wesley, who plays Stefan. The actor told reporters that he had "no idea what everyone was talking about" when he heard about the "June wedding" at Comic Con.
"Apparently, the fans talk about a June wedding," he said, according to TV Guide. "So when they first told me they were going to have a June wedding, I was like, 'Oh, cool. We're going to pay homage to the fans.'"
Episode 15 of The Vampire Diaries, "We're Planning a June Wedding," will air on the CW Friday at 8 p.m. Eastern. Watch the trailer for the episode below:
Mic has ongoing Vampire Diaries coverage. Check out our main Vampire Diaries hub here.