New Coca-Cola ad features a brother and sister thirsting after the same guy — and it ROCKS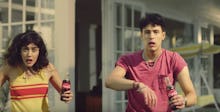 Know what's cool? When a company makes a fun, lighthearted ad that showcases some of the many angles of sexuality like it's no big deal.
Coca-Cola did exactly that in one of its newest global ad campaigns, titled "Pool Boy." The minute-long spot takes the classic trope of sexy pool boy and spins it on its head. 
A brother and sister are shown racing against each other to flirt with a shared love interest: a very sexy pool boy. After they each grab a bottle of Coke from the fridge, the siblings prepare to duel it out — but upon reaching their crush, they find their mom has already beat them to the punch. Love is love. 
The advertisement is one of four videos for Coke's "Taste the Feeling" campaign, all of which are "designed to translate globally with simple stories, little to no dialogue and universal themes," AdWeek reported. In "Pool Boy," the plot reveals itself clearly, no translation necessary. 
Coke hasn't been shy about highlighting diversity and inclusion in its advertising. Its "America the Beautiful" commercial — which ran during the 2017 Super Bowl and the 2014 Super Bowl — featured a diverse cast of Americans and several languages intended to highlight the fact that our differences are what makes America so beautiful. 
Why does any of this matter?
Among the many different cultures and races, Coke's "America the Beautiful" commercial zooms in on two fathers roller-skating with their daughter. "Including a gay family in this ad is not only a step forward for the advertising industry, but a reflection of the growing majority of Americans from all walks of life who proudly support their LGBT friends, family and neighbors as integral parts of 'America the Beautiful,'" GLAAD president and CEO Sarah Kate Ellis said in February.
Food and drink commercials in particular are seemingly paving the way for representing LGBQT identities, and research shows that programs with "ethnically diverse" actors and writers actually get higher ratings. Showing all kinds of people on the big and small screens is a win for everyone.