This picture of Hillary Clinton reading about Mike Pence's email scandal is everything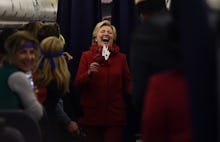 A hero photographer appears to have captured an image of former Democratic presidential candidate Hillary Clinton learning that Vice President Mike Pence used a personal email for state business while he was governor of Indiana. 
The headline of the USA Today story must have caught her eye, for some reason, and her expression is predictably priceless. You can see it below in all of its splendor.
The irony was not lost on the internet, which was quick to point out that Pence publicly commended the FBI for investigating Clinton's use of a private email server while she was secretary of state. 
The image was snapped in secret by a communications manager named Caitlin Quigley, who told the Huffington Post that the "stealth shot" was simply too good to resist.
"The meme writes itself," Quigley told the Post, via Facebook message. 
We agree. 
Before you get too gleeful about the irony, the Washington Post notes, there's a few reasons why Pence may not have actually breached protocol. It's perfectly legal in Indiana for the governor to use a private email, for one. 
It's also important to note that as the nation's chief diplomat, Clinton has access to a great deal more classified information than Pence would have as governor of a single state. 
In other words, this isn't an apples-to-apples comparison. 
Still a pretty great pic though.