The Trump administration moves to make deep cuts to the key climate science agency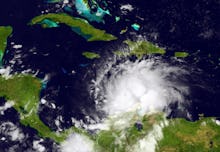 President Donald Trump's administration is planning a 17% cut to the National Oceanic and Atmospheric Administration, the agency tasked with monitoring oceans, preparing for potentially dangerous storms and assessing the dangers of climate change, according to a leaked memo obtained by the Washington Post. 
The leak comes on the heels of a similar announcement about the Environmental Protection Agency, which is expected to see a 25% cut to its budget, according to Science.
Many of the cuts focus on research and development, including the complete elimination of a program called Sea Grant, which supports coastal research at various universities. 
But the biggest cut proposed, according to the Washington Post, would be to the agency's satellite division, whose researchers were responsible for a recent study determining no progress had been made in the fight against climate change.
Concerns about cuts spread across party lines. 
"It will be very hard for NOAA to manage and maintain the kind of services the country requires" Conrad Lautenbacher, a former NOAA Administrator under President George W. Bush told the Washington Post.
Rick Spinrad, a former chief scientist for NOAA, told the Washington Post that the cuts "virtually guarantee," that the safety of the American public will be jeopardized. 
The concern is that without a fully-funded NOAA, the country wouldn't be as prepared for dangerous storms and hurricanes. 
NOAA didn't immediately respond to request for comment.