Nintendo Switch Screen Protector: Scratches to the display may be caused by included dock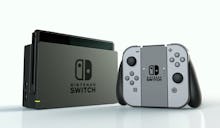 The Nintendo Switch release date has finally hit, and there's a good chance the console is on sale near you — if it hasn't sold out. When the first Nintendo Switch trailer hit, many were impressed with the console's ability to switch between handheld portable mode and TV mode using an included dock. However, it seems the Switch's biggest strength may lead to one of the device's first annoyances. 
Some users are reporting that the Nintendo Switch dock is responsible for scratching the device's screen. Time to buy a screen protector? 
Nintendo Switch screen protector: Is the dock causing scratches?
Glixel reported that the bottom left part of its Nintendo Switch display has been scratched after simply sliding the device into the dock. "We've been super careful with our Switch since it arrived a little over a week ago," the site explains. "And we've been keeping it nestled comfortably in one of Miguel's giant woolen socks whenever we transport it."
The Nintendo Switch dock included with the system has two raised portions inside to keep the screen from touching the front of the dock. But while the pixel part of the screen isn't touching the plastic of the dock, the black bezels on the side do come into contact with the dock. That's where Glixel, and possibly others, have encountered scratches.
Nintendo Switch screen protector: How to prepare against scratches
Reddit users TheDutchman88, Soundwarp and skill1414 have all taken action against potential scratches on their Switch units. In each case, the solution is some sort of variation on putting some cloth or another soft material inside the Nintendo Switch dock where the plastic touches the face of the unit. Putting tape, felt or other materials between the Switch and the dock could lead to softer insertion and removal.
The other option is a good old-fashioned screen protector. A search on Amazon shows a few companies like Hori, Illumishield and more are offering to look out for your Nintendo Switch, though let's hope Nintendo does something to fix this from getting potentially worse.
Check out more Nintendo Switch coverage
Looking for more Nintendo Switch news? Learn why the Switch cartridges taste so bad. Check out our comparison photos sizing up the Switch to the Wii U GamePad (part one and part two) and the best way to get find out when new stock arrives.