Immigration agents are reportedly basking in their new, less-regulated roles under Trump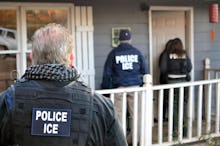 Morale among immigration agents in the Houston area has reached an all-time high under the Trump administration, according to the Houston Chronicle. 
The officials told the Chronicle that agents feel free to engage in more "collateral arrests," or arrests of people who are not the intended targets of the operation. These kinds of arrests were discouraged in the Obama years, when those with criminal records were the targets of raids. Now, agents are free to detain them if they've broken immigration law. 
The Chronicle reported that former senior agency officials are the easing on restrictions has given agents more freedom to arrest and detain immigrants than they had under former President Barack Obama. 
"In the past, you could get in trouble for who you arrested," Steven Boll, a retired Houston field office director for the U.S. Immigration and Customs Enforcement, told the Chronicle. "Now you could potentially get in trouble for who you didn't arrest."
No current Houston ICE officials spoke to the Chronicle. 
Boll said that, in the past, not being able to arrest and detain people meant agents could not get detainee information entered in the system, which was a sore spot for agents. Now, under President Donald Trump, agents can do so. 
"What's hard is when you don't feel like you have the support within your own ranks," Boll said. "The onset of this administration seems much more supportive."
By February, it had become clear that immigration raids under Trump were becoming more aggressive. Under the previous administration, they often happened at night in secret. Under Trump, immigrations raids have been carried out in broad daylight in an apparent attempt to intimidate people. This week, video hit the internet of a 13-year-old girl sobbing in the backseat of a car as her father, a 48-year-old Mexican immigrant, was arrested one block from her school. On Wednesday, 22-year-old Daniela Vargas was arrested and detained after giving a speech speaking out against immigration raids. 
Since his inauguration, Trump has taken steps to send the message that he intends to make good on his campaign's anti-immigrant message. Last month, documents surfaced that suggested Trump plans to build more immigrant detention centers. In his first week in office, Trump signed an executive order requiring a list of crimes committed by undocumented immigrants be compiled weekly. 
And at his first address to a joint Congress on Tuesday, Trump announced he had created an office called the Victims of Immigration Crime Engagement, which elicited boos from the crowd. 
It would seem at least one group is cheering these recent changes.