This tutorial will teach you how to bleach your hair in Trump's America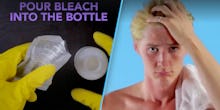 Finally, a way to cover up those pesky roots — and do so much more in the process.
In a video released by entertainment site Super Deluxe, a regular tutorial on how to bleach your hair is, in fact, something far more subversive.
The video goes through the usual steps you might expect from a tutorial on how to bleach your hair: gathering ingredients, adding your bleach powder to your developer creme then adding lightening creme to the mixture. 
Then work that mixture into your hair. 
Put on a shower cap, wait 40 minutes and rinse the mixture out of your hair. It's time to make and apply toner — using Kool-Aid.
Nope, the Kool-Aid is not the twist.
Once the model in the video has completed his new look, there's still more work to be done. 
"Now infiltrate the alt-right," the final subtitles read. "And destroy them from the inside." 
Surprise! What you originally thought was a DIY tutorial on hair bleaching is actually a dig at the alt-right, a loosely affiliated white nationalist movement. The bleach blonde look is likely influenced by the group's love of everything white — from Aryan aesthetics to cow's milk. 
And while it's never explicitly mentioned, the model's "after" look bears a striking resemblance to that of alt-right darling Milo Yiannopoulos.
Recently, Yiannopoulos has fallen on hard times. On Feb. 21, the right-wing provocateur resigned from his post at Breitbart shortly after comments of him defending sexual relationships between grown men and underage boys surfaced. The comments also cost him a book deal.
And now you can get his look!