Obama just shut down Trump's "simply false" claim that he wiretapped Trump Tower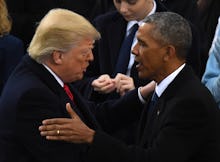 That didn't take long. 
In a statement from Barack Obama spokesman Kevin Lewis, the former president called President Donald Trump's Saturday-morning tweet, which asserted Obama surveilled Trump Tower via wiretapping, "simply false." 
"A cardinal rule of the Obama administration was that no White House official ever interfered with any independent investigation led by the Department of Justice," the statement reads. "As part of that practice, neither President Obama nor any White House official ever ordered surveillance on any U.S. citizen. Any suggestion otherwise is simply false."
Trump, citing no evidence, accused Obama of wiretapping in a bizarre Twitter rant that meandered from defending Attorney General Jeff Sessions in his ongoing Russian ambassador scandal to accusing Obama of McCarthyism.
And, true to form, the commander in chief managed to get an early morning jab in at his Apprentice successor Arnold Schwarzenegger after the actor's announcement Friday that he was leaving the show due to its "baggage."