Trump got so mad over Sessions' recusal, he grounded senior staff, ABC News reports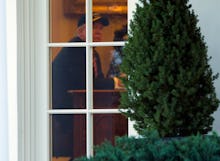 What was supposed to be a "good week" for President Donald Trump may have ended on an especially low note, sources told ABC News
The new report indicates Trump was furious Friday after controversy over Russia ties again seized the White House and the news cycle — and he's taking it out on his senior staff.
On Thursday, Trump expressed "total" confidence in Attorney General Jeff Sessions. But, only hours later, Sessions was forced to recuse himself from investigations of the Trump campaign's contacts with Russian officials because of revelations about his own undisclosed meetings. 
"Sources said the president felt Sessions' recusal was unnecessary and only served to embolden Trump's political opponents," the ABC News report said.
Trump reportedly summoned his senior staff to the Oval Office Friday and went "ballistic," according to senior White House sources speaking to ABC News. The president's chief of staff, Reince Priebus, and chief strategist, Steve Bannon, were among the White House officials present for the dressing down, the report said.
The two men were reportedly going to accompany their boss to the swanky Mar-a-Lago resort in Florida — Trump's "Winter White House" — for the weekend. But, after the meeting, those plans changed.
According to ABC News:
Priebus and Bannon were planning to join the trip, but suddenly after the president's eruption, those plans changed. One source said both men volunteered to stay behind in Washington, with another source saying the president seemed to concur that they should. Sidelining key staffers with whom he was angry was an occasional Trump tactic during the campaign.
A separate report from Politico said Priebus "stayed behind in Washington after the president's flare-up, according to two people familiar with the matter." Politico added that Bannon was going to Florida Saturday but didn't specify if that was his original travel plan or a change. On Saturday, the Washington Examiner reported a revised schedule for Trump that included Bannon in the president's Florida dinner plans.
Press cameras caught a glimpse into the Oval Office during the reportedly fiery meeting Friday and captured Trump's exit from the Oval Office without two of his most senior staffers in tow.
This isn't the first time Trump has taken his frustrations out on his senior staff. Last month, Trump reportedly became angry when he learned he did not have all the details of an executive order he had issued before signing it. The White House staff had not, according to the New York Times, "fully briefed" the president about the unprecedented move of giving his chief political adviser — one Steve Bannon — a permanent seat on the National Security Council.
In that case, though, there were no reports that the president meted out punishments usually reserved for unruly teenagers.