'SNL' cold open parodies Jeff Sessions as 'Forrest Gump'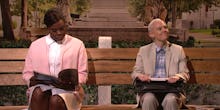 Saturday Night Live kicked things off on Saturday by taking on Attorney General Jeff Sessions' communications with Russia — with a little help from Forrest Gump.
The SNL cold open sketch parodies the classic bus stop scene from the 1994 film, in which Tom Hanks as Gump tells the woman sitting next to him his mother's old phrase: "Life is like a box of chocolates. You never know what you're gonna get."
Having fled Washington, D.C. for a Southern bus stop, Sessions, as played by Kate McKinnon, puts his own spin on the iconic line.
"I always say life is like a box of chocolates," McKinnon-as-Sessions tells Leslie Jones. "Sure are a whole lot of brown ones in there!"
As new bus riders arrived and sat next to Sessions on the bench, the attorney general was quick to share his recent plight.
"I had a bad week!" McKinnon's Sessions tells cast member Kyle Mooney. "Started out real good. President made a great speech. Folks were thrilled on account of it was real words in a row for a whole hour. ... Then I went to bed, I got 800 messages and phone alerts, saying I was a sneaky little liar.
"I didn't know what to do," Sessions continues. "So my lawyer said, 'Run, Jeffy, run!'"
Sessions even admits to speaking with Russian ambassador Sergey Kislyak to cast member Aidy Bryant. "I remember any name with 'gay kiss' in it," McKinnon-as-Sessions emphasized.
"But I was the only one who talked to the Russians," McKinnon's Sessions explains. "Well, me and Michael Flynn. So just me and Michael Flynn. And J.D. Gordon. So just me, Michael Flynn and J.D. Gordon. And Jared Kushner at Trump Tower. So me, Michael Flynn, J.D. Gordon and Jared Kushner at Trump Tower. And Carter Page. And that's all I got to say about that. And Paul Manafort."
Sessions even got a visit from a familiar face while sitting on the bus stop bench: Russian President Vladimir Putin.
"This meeting never happened," Putin, as played by Beck Bennett, tells Sessions.
"I wasn't going to remember it anyway," McKinnon's Sessions responds.
Finally, the attorney general gets to meet another classic movie character, as host Octavia Spencer's character Minny from The Help sits down on the bench.
Minny was quick to recognize Sessions as the subject of Coretta Scott King's letter opposing Sessions' nomination to be a federal judge in 1986. "A lot of people in Alabama remember that, sir," Spencer-as-Minny tells Sessions.
But Minny comes prepared with a gift: a very special pie baked especially for him.