#March4Trump rallies in Berkeley, California, and around the country turn violent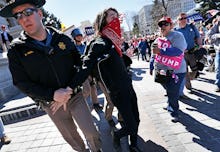 Saturday saw an unusual take on the protest narrative that's developed nationwide since President Donald Trump took office: his supporters convening in cities across the country for coordinated marches in his honor. Wouldn't you know it? Many of the #March4Trump rallies turned violent. 
As Reuters reported, anti-Trump protesters showed up to counter pro-Trump demonstrators in Berkeley, California, the crowd numbering between 200 and 300 in total. The scene devolved from relative peace into violence with people from both sides walloping one another over the head with "wooden sticks," per Reuters, with some Trump supporters brandishing pepper spray. According to Reuters, an elderly member of the pro-Trump camp was attacked and kicked; according to Twitter, he was also pepper-sprayed. 
According to the Associated Press, Berkeley police arrested 10 rally attendees. They also took a wide range of weapons away from protesters, including: "a dagger, metal pipes, bats, pieces of lumber and bricks." 
The AP also reported that six anti-Trump protesters were arrested in St. Paul, Minnesota, after setting off fireworks inside the capitol building. Protests in Nashville ended in two arrests, while four people were arrested at an Olympia, Washington, demonstration, allegedly for assaulting a police officer. Trump reportedly drove through a rally near Mar-a-Lago and waved to his fans. 
Not every #March4Trump dissolved into chaos, however. Mic's Tom McKay reported live from the relatively subdued rally outside Trump Tower in New York City Saturday. Roughly more than 100 pro-Trump demonstrators mostly stuck to slogans like "God bless Donald Trump," according to McKay, although their chants occasionally "took on an angry tone," as they denounced the "fake news" media, intelligence agencies and the special "snowflakes" on the other side. 
Saturday's pro-Trump marches weren't the first instance of coordinated protest by people on the right. Those efforts typically draw a smaller crowd drowned out by the opposition — think, for example, about the rallies to defund Planned Parenthood in early February, which drew minimal support from the right but overwhelming pushback from the left. That didn't seem to be the case Saturday: Reports from cities around the country counted larger crowds of pro-Trump demonstrators than liberal counter-protesters. 
Relative to the size of rallies and marches convened in protest of the Trump administration, though, Saturday's Trump-celebrating events were small. In an interview with Mic, a New Yorker named Thomas called the numbers who showed up outside Trump Tower on Saturday "pathetic."
"I saw this on TV and it made me really angry to see this type of support for a man who's a sexist, a bigot, a xenophobe, a racist, every single terrible thing you want to say," Thomas said. "I just wanted to come out here and be opposition of some sort."