'Trial & Error': Here is an exclusive first look behind the scenes of NBC's newest comedy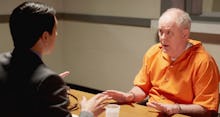 On Tuesday, March 14, NBC will be getting back into the mockumentary business with Trial & Error, a true crime-like comedy revolving around the murder of a professor's wife in the small town of East Peck, South Carolina. And while that may sound like a serious premise, Trial & Error is anything but. The hilarious ensemble cast hopes to deliver one laugh after another. 
Trial & Error stars The Crown's John Lithgow as Larry Henderson, a quirky poetry professor, who is accused of murdering his beloved wife. Of course, Henderson vehemently denies the allegations, and it is the trial and investigation into the wacky professor that takes center stage in the series. 
For Lithgow, Trial & Error is a return to comedy after the actor made highly memorable appearances in dramas like Dexter and The Crown. It should not be terribly surprising, though, that Lithgow's comedic timing is still in top shape, as the actor previously won multiple Emmy's for his work on NBC's 3rd Rock from the Sun, and has guest-starred on acclaimed comedies like How I Met Your Mother and Louie. 
Trial & Error's strong cast is rounded out with Steven Boyer, Nicholas D'Agosto, Jayma Mays, Krysta Rodriguez and Sherri Shepherd — who all prove they are no comic slouches. The series is shot in the same style as Parks and Recreation, and NBC is no doubt hoping that it can capture a similarly loyal fan base. And that is certainly possible.
Trial & Error does have quite a bit going for it, as the cast gets to work with an intriguing murder-mystery that has a few more twists than you may expect from a comedy. So, for fans who not only enjoy lough-out-loud sitcoms like The Office and Parks and Recreation, but also binge documentaries like Making a Murderer, NBC's new comedy may just be the perfect blend. 
The official synopsis for Trial & Error's premiere episode reads as follows:
When rollercizing poetry professor Larry Henderson (John Lithgow) is arrested for the brutal murder of his wife, bright-eyed lawyer Josh Segal (Nicholas D'Agosto) comes down from New York to the quirky town of East Peck, South Carolina, to defend his first big case. After meeting his eccentric client and odd-ball team, Josh quickly realizes he's in over his head. Jayma Mays, Sherri Shepherd, Steven Boyer and Krysta Rodriguez also star.
Looking for a bit more info regarding Trial & Error? You are in luck. Mic has an exclusive first look behind the scenes of NBC's new comedy. Check it out below:
Trial & Error premieres Tuesday, March 14 at 10 p.m. Eastern on NBC with back-to-back episodes. 
Mic has ongoing coverage of NBC. Please follow our main NBC hub here.