Future becomes first artist to land back-to-back No. 1 debuts with 'FUTURE' and 'HNDRXX'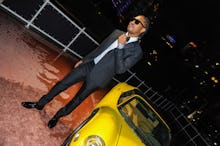 Future has raised the bar. The Atlanta rapper, heir to Outkast's and Goodie Mob's Dungeon Family legacy, has achieved an entirely new chart achievement, notching back-to-back No. 1 debuts with his two most recent albums, FUTURE and HNDRXX, released within a week of one another. 
Days before Billboard made the official call, Future whet his fans' appetites for excellence, making the call in an Instagram post on Friday. "Two albums, two No. 1's in two weeks, God's plan," he wrote. 
The self-titled album and HNDRXX now occupy the top two spots on the Billboard 200 album chart, also making Future the first artist to do this since Prince following his death in 2016 when The Very Best of Prince and Purple Rain sat at No. 1 and 2 respectively. Before the Purple One, Nelly was the last to notch the achievement with his Suit and Sweat albums in 2004.
Both of Future's chart-topping albums work in concert, with FUTURE narrating a reckless, codine-fueled joy ride, and HNDRXX soundtracking the vulnerable, more confessional hangover that hits the morning after. 
Rumors swirled last week that a third album was on the way to turn Future's chart stunt into a hat trick, based off a misleading episode description of The Ellen DeGeneres Show. No new album surfaced on that third Friday, however. Future shot down any hopes in a terse quote published in a Complex interview on Saturday: "There is no third album."
The 34 tracks of woozy, face-melting trap the two albums offered will have to hold fans over until Future returns to the lab for more.
More Future coverage and updates
Mic has ongoing coverage of Future's 2017 reign. Review the tracklists, download and streaming options for FUTURE and HNDRXX, as well as the best tracks from FUTURE and the most personal lines from HNDRXX. Read how Future got his nickname "Future Hendrix" and our review of HNDRXX, which listens like "a revealing glimpse into the void after the high fades."