Brooklyn activists make free protest swag at propaganda party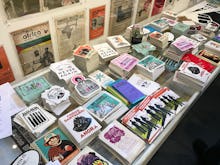 Protests are more or less a daily occurrence in President Donald Trump's America, which means — among other things — that people are going to want/need signs. And buttons. And apparel. And posters. 
Enter Print Organize Protest, "a network of independent artists and printers working together for radical social change," according to its website. POP coordinated events on Sunday in Charlotte, North Carolina; Chicago; Berkeley, California; Santa Cruz, California; San Francisco; and New York. The organization encouraged attendees to bring in printable items to make their own resistance materials, for free, in advance of the rallies planned for International Women's Day on Wednesday.
Brooklyn was home to two print-fests on Sunday, one at Shoestring Press in Crown Heights and another at Interference Archive, an open-stacks archive and exhibition space documenting the history of social movements. Located in the Gowanus neighborhood of Brooklyn, Interference Archive has been operational since 2011 and houses a horde of materials — including posters, buttons, leaflets, newspapers and audio recordings — visitors can peruse at their leisure. 
"No white gloves here," said Vero Ordaz, a volunteer for the archive. The archive's goal is to engage visitors with the collection and to "keep the information ... circulating." At Saturday's Propaganda Party, the archive offered a broad range of protest materials free of charge, although donations were appreciated. 
"We just want to be connecting with folks, serve as a space for people to connect with each other and give away really great material to use at these actions," Ordaz told Mic.
People packed into two of the archive's rooms, browsing tables piled with posters, patches and stickers. Some of the materials were printed in advance in partnership with local organizations, artists and brands, POP among them. 
At Interference Archive, participants could craft their own buttons and posters with the help of volunteers staffing two separate printing stations. 
Brooklyn-based Wasp Poster and Print brought carved linoleum blocks for attendees to ink and print themselves. One design depicted white-supremacist agitator Richard Spencer getting punched alongside the warning, "Intolerance will not be tolerated." Another featured a black rat stamped with the slogan, "Eradicate fascist vermin." Wasp volunteers anticipated they'd print about 500 posters on Sunday. 
Interference Archive has hosted three other Propaganda Parties, one for criminal justice reform in July; one for climate justice in October; and one titled "Inaugurating Resistance," a special two-day affair in anticipation of the higher-than-average need for protest materials one week before Trump moved into the White House. Sunday's event was convened with the upcoming women's strike and its attendant rallies in mind — but more than anything, the need for a propaganda party is a sign of the times. 
"I think it's kind of a time to bring people together and create and share visual imagery of resistance, and start conversations and collaborations," Elena Levi, another Interference Archive volunteer, said Sunday.
Yuling Kohhsu, a project manager in the service industry and a resident of Greenpoint, Brooklyn, was picking up posters for use at Wednesday's women's marches and to hang in her windows, along with postcards to send to representatives. She contributed patches that read "Resist" and "No ban no wall." Kohhsu attended January's Propaganda Party and loved the various designs she saw, as well as the ability to network with "like-minded people," she said. 
"I liaise with different action organizations, so I like to bring them materials from here as well, since not everyone can get out," Kohhsu said. She said she was there to "soak up information" to bring to different groups and people who were maybe too busy to attend such events themselves.
Erin Spaulding, a curriculum developer who lives in Park Slope, came to Interference Archive to "draw inspiration from others," she said. Spaulding attended the event with two friends: marketing consultant Jess Wright and Wendy Moore, who runs a small nursery school out of her home. The trio belongs to a fledgling feminist collective called Ma'am Cave, which Moore conceptualized in advance of the Women's March on Jan. 21 when she realized she had a stash of sign-making tools at her disposal. What she's doing and what Interference Archive did Sunday were similar, Moore said.
Ma'am Cave operates after hours at Moore's nursery school, and has since hosted "12 or 15 people" who partake in collective actions, like sign-making and letter writing (the group recently wrote almost 1,700 letters to various members of Congress). Wright said they were gathering protest materials for Ma'am Cave's next meeting and "trying to figure out what we can actually do," as the project is still finding its place in the "revolution."
"What we're doing is tiny right now, and we're going to see what it can be in the future," Wright said. The women brought T-shirts, buttons and stickers to the Interference Archive event, where they went to scout new ideas for Ma'am Cave and see what similar organizations were up to. 
"I love seeing the disparate messages because, I mean, all of our thoughts and feelings are kind of captured in these [materials]," Wright said. "They're all so different, they've each got a valid point and that's part of the problem we all face at this point ... what issue are you going to fight against? All of them."