Trump ally Roger Stone tweets — then deletes — he had "back channel" to WikiLeaks' Assange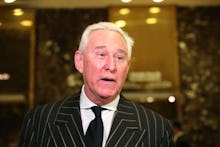 Amid a bizarre string of angry, misogynistic tweets on Saturday, President Donald Trump's longtime friend and confidant Roger Stone claimed he had back-channel access to WikiLeaks founder Julian Assange, whose role in leaking embarrassing materials about Democrats during the 2016 presidential campaign has been under fire.
WikiLeaks, which debuted as an internet clearinghouse for leaked intelligence and government documents in 2006, has drawn suspicion both for its defenses of Trump and its possible use by Russian intelligence assets as a way to leak hacked emails from Hillary Clinton's presidential campaign and the Democratic National Committee.
Stone, who has admitted his previous contact with Assange, replied to a Twitter user with, "you stupid stupid bitch — never denied perfectly legal back channel to Assange who indeed had the goods on #CrookedHillary."
He has since deleted the tweet.
As noted by the New York Times' Liam Stack, the diatribe was among several sent by Stone late Saturday evening. His tweets included levying legal threats at the same user, whom he called a "stupid ignorant ugly bitch," and spreading rumors about an affair between two prominent Republican strategists.
It's a strange time for Stone to be bragging about foreign contacts who provided damaging info on Democrats and Clinton: In February, the New York Times reported Stone was among those in Trump's orbit under investigation for rumored contacts with "senior Russian intelligence officials" during the election.
Meanwhile, Trump's former national security adviser Michael Flynn resigned after it was leaked that he lied about a phone call with Russian Ambassador Sergey Kislyak. Attorney General Jeff Sessions is also facing calls for his resignation after misrepresenting to Congress — while under oath — whether he, too, met with Kislyak.
As Stone hinted at prior knowledge of WikiLeaks' possession of Democratic materials that intelligence agencies now say was stolen by the Russian government, Trump was applauding President Vladimir Putin on the campaign trail. Trump struck a friendly tone on U.S.-Russia relations that perplexed many of his GOP colleagues.
Notably, Stone also made headlines in January after he took to far-right website InfoWars to assert unknown parties had poisoned him with polonium, a highly radioactive substance linked to the assassination of former FSB and KGB spy Alexander Litvinenko. Reached for comment amid Trump's inaugural festivities, Stone claimed he had submitted blood samples to a private lab — but said in a subsequent interview with Time that he had been in contact with the Centers for Disease Control.