Hundreds of US Marines implicated in sharing nude photos of colleagues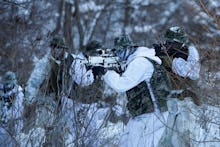 Hundreds of U.S. military personnel and veterans have been implicated in a Facebook group that distributed nude photos of "female colleagues and other women" and promoted sexual violence, the Marine Corps Times reported Sunday.
The group, titled "Marines United," had "nearly 30,000 members, mostly comprising active-duty U.S. Marines, Marine Corps veterans and British Royal Marines," according to the Marine Corps Times. The Center for Investigative Reporting, which published the story in conjunction with the War Horse, reported that since Jan. 30, group members posted photos of more than two dozen women "identified by their rank, full name and military duty station" in accompanying captions.
Photographs of other women were posted to the Facebook page or linked to externally via Google Drive, according to the CIR. The sharing reportedly began less than a week after the first Marine infantry unit received female recruits in a combat role Jan. 5.
One Marine on active duty who took photos of a female colleague has been discharged, and the U.S. Marine Corps contacted the employer of the man who posted the Drive archive, which resulted in his termination as a government subcontractor, the CIR reported. The Corps successfully asked Facebook and Google to delete the accounts involved, and the Naval Criminal Investigative Service has launched an investigation.
Epidemic rates of sexual assault in the U.S. military have been reported in recent years, with victims accusing command of not doing enough to prevent such crimes.
"We need to be brutally honest with ourselves and each other: This behavior hurts fellow Marines, family members and civilians. It is a direct attack on our ethos and legacy," Sgt. Maj. Ronald L. Green, the most senior enlisted Marine on active duty, told the CIR via email. "It is inconsistent with our core values and it impedes our ability to perform our mission."
"People will immediately start blaming victims, and we are most concerned about them," an anonymous Marine Corps official told CBS News. "They may have taken pics meant to be private and then those images could have been shared by a former close friend. So many questions that we just don't have answers to at this point."