North Korea just launched four more missiles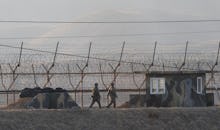 In a move that tested the patience of its global adversaries, North Korea launched four missiles Monday morning, all of which fell into the sea that separates Japan from the Korean peninsula. 
In a text message to Washington Post reporters, South Korea's joint chiefs of staff initially said they believed that at least one of the missiles could have been capable of reaching the West Coast of the United States but later backtracked on that opinion.
The launches coincided with joint U.S.-South Korean military exercises currently being conducted in the province's southern half, the timing of which Bruce Bennett, a North Korea expert at the Rand Corp. in California, said was unsurprising. Bennett also speculated that Beijing's recent decision to cut off coal imports from the country could have incensed supreme leader Kim Jong-un.
"Every year this time, they try to do something to defy the exercises," Bennett told the Post. "This time, I think they're also interested in making a statement to the Chinese and to let Beijing know this coal ban is going to hurt." 
While the U.S. Strategic Command determined the missiles did not pose any threat to North America, at least three of the missiles splashed into waters dangerously close to the coast of Japan.
"These missile launches clearly show that North Korea has developed a new threat," Prime Minister Shinzo Abe told reporters in Tokyo. "We will collect information and strongly protest to North Korea."
China, too, had reason to be concerned Monday morning: According to Bennett, 12 of China's 20 largest cities were within the missiles' range.
While officials have become increasingly certain that the North is capable of making good on its promises to develop a missile capable of reaching the continental U.S., President Donald Trump has expressed his doubts.
In January, a tweet from Trump seemed to suggest that he did not believe the country was capable of fulfilling its pledge.
"North Korea just stated that it is in the final stages of developing a nuclear weapon capable of reaching parts of the U.S. It won't happen!" he tweeted.