65% of Americans want a special prosecutor for Trump-Russia investigation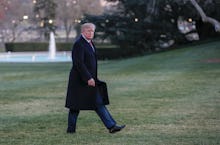 Nearly two-thirds of Americans say an independent special prosecutor should handle an investigation into President Donald Trump and his campaign's potential communication with Russia during the presidential election, according to a new CNN/ORC poll published Monday morning.
The 65% of Americans who want an independent special prosecutor includes 43% of Republicans and 67% of independents, according to the survey.
The news comes after Attorney General Jeff Sessions recused himself from any potential investigations into the Trump campaign's activities, since he denied meeting with any Russians during the campaign — despite the fact that he had. 
Still, the latest controversy over Trump and his campaign's potential ties to Russia did not seriously impact Americans' feelings toward the president, whose approval rating grew by 1% since the last time the poll was conducted in late January to early February.
Still, just 45% of Americans approve of the job Trump is doing less than two months into his tenure, the poll found. 
A majority, or 52%, disapprove of the way Trump is handling his job as president.