Nicki Minaj is not messing around at Paris Fashion Week, channels Lil' Kim amid Remy Ma feud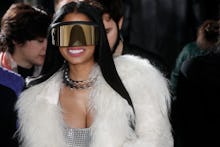 By now you know the story: First, Nicki Minaj ignited a rap battle with Bronx rapper Remy Ma. Then Remy Ma issued not just one outstanding diss track, but two, in which she rapped about the rumors that Minaj has gotten plastic surgery and doesn't write her own raps (those among her nicer claims). 
So far, Minaj has yet to really respond, which has led people to believe that she's lost this round. 
However, what people might not realize is that rather than respond to Ma and her haters via another diss track, Minaj has instead chosen to clap back at her haters via a cornucopia of over-the-top and NSFW — but also kinda really amazing — looks at Paris Fashion Week, garnering a whole new level of attention. 
It's a bit of a genius move because after seeing these looks, well, it's hard to think that Minaj is feeling all that defeated. 
Exhibit A: The Lil' Kim homage at Haider Ackermann
Like, come on. A woman who thinks she just lost a rap feud wouldn't pop up at Paris Fashion Week wearing an ode to Lil' Kim's 1999 Video Music Awards look, would she?
Minaj posted four Instagrams of the look, crediting the pastie to Agent Provocateur and the "shirt" to Thierry Mugler. And don't think Minaj doesn't know who she's channeling here. Notably, Minaj has had a long-standing beef with Lil' Kim, so it's almost like rather than trying to bash her fellow rappers, Minaj is trying to honor them. 
An olive branch in the form of a pastie, if you will. 
Of course, Twitter almost immediately created memes of the look, an ode to Minaj's own impact as not just a rapper but a celebrity. 
Exhibit B: The blinding sunglasses at Rick Owens
With these sunglasses, which surely left Minaj visually impaired at the Rick Owens show at PFW, what's the message? Is it: Minaj can't seem to see her haters... literally?
Whatever it is, Minaj seemed quite fond of this look too, posting plenty of pictures of her wearing it on her Instagram. 
Exhibit C: The squad pics at Balmain
Although these looks are far more subdued than her outfits at the Ackermann and Owens shows, there may be a message here too. 
Usually, Minaj posts pictures of herself solo in her latest fashions, but for the Balmain show and the afterparty, she chose to post images of herself posing with folks like Balmain's Olivier Rousteing, Jourdan Dunn and Winnie Harlow, sending a message of: "I've got my friends. I'm OK."
Though, she still refused to go out without her now-signature massive sunglasses. 
Exhibit D: The girly glitter at H&M
With this look, which was actually Minaj's first at PFW, it looks like she's going into battle. The crystal corset. The high, reflective shoes. The oversized pink jacket. She looks tough, but sweet. 
She is a woman who's not only serious about fashion, but serious when it comes to herself as well. 
Obviously, maybe Minaj wore all of these outfits at PFW because she loved them. But with so much attention on her to react and to issue a diss track of her own, it's hard not to think that this was Minaj's rebuttal. She looked good. She looked put together. She looked calm. And in the face of such conflict, that can feel like a diss track too.