Nintendo Switch Ethernet Port Adapter: How to get wired LAN internet without the dock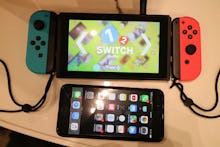 Like many modern devices, the Nintendo Switch packs in Wi-Fi for all your multiplayer and game download needs. Gone are the days of using a link cable to play with friends or even buying games off store shelves, if that's what you're into. Though for some new Switch owners, downloading data from the internet over Wi-Fi just isn't quick enough. For this, players can make use of the USB Ethernet adapter. The adapter with a USB-A plug goes right into one of the included dock's three USB ports. But how can I plug Ethernet straight into my Nintendo Switch while forgoing the dock altogether?
The answer is going to require a few adapters if you want to use an Ethernet connection with your Nintendo Switch.
Nintendo Switch Ethernet port adapter: How to plug your internet cable right into the console 
The trick comes to us from Reddit user evanmckee. When getting a USB Ethernet adapter you'll want to also purchase a USB-C to USB-A adapter. Make sure that the USB-C part is the male end and the USB-A side is female. This will let you plug your adapter into the console and your Ethernet cable into your adapter. Amazon sells these if your smartphone didn't come with one.
Nintendo has big plans for wired internet. While it provides a faster connection for all users, some games will even support LAN play. For Splatoon 2 this feature will allow 10 Switch units to connect via Ethernet to the same game — eight players and two spectators. Further emphasizing the importance Nintendo is placing on making the Switch a tournament-ready console. The feature requires you use the dock, but perhaps this workaround will let Switch owners forego that too.
Check out more Nintendo Switch news and coverage
Looking for more Nintendo Switch news? Learn why the Switch cartridges taste so bad. Check out our comparison photos sizing up the Switch to the Wii U GamePad (part one and part two) and the best way to get alerts when new stock arrives.