Is 'The Arrangement' about Tom Cruise, Katie Holmes and Scientology?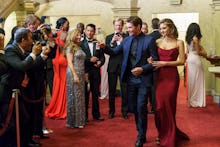 On Sunday, E! premiered The Arrangement, a scripted drama about an aspiring Hollywood actress named Megan who finds herself in an unconventional and potentially disastrous relationship with Kyle, the actor in a major movie she auditioned for.
We learn that Kyle is a member of the Institute of the Higher Mind, a mysterious self-help organization run by Kyle's controlling mentor, Terence. Terence doesn't approve of Megan but Kyle really likes her and offers her — if she signs a contract — to be his girlfriend and later wife for $10 million. Given it's similarities, those who tuned in to the premiere are wondering if the show is about Scientology and Tom Cruise and Katie Holmes' marriage. 
The Cruise and Holmes connection
To start, the Institute of the Higher Mind appears to be an allusion to Scientology. The similarities are all the more believable when you consider that Tom Cruise, like Kyle in the show, is an actor and high profile member of an organization whose high ranking officials can't help but meddle in his life.
However, back in January The Arrangement's producer Jonathan Abrahams addressed reporters making these connections. "There were a lot of inspirations for me, I've had experiences second- and third-hand in self-help organizations. There are many of them," Abrahams said at the Television Critics Association winter press tour. 
He doesn't exactly tie his fictional organization to Scientology, but he doesn't deny the commonalities either. 
Then there's the contract Kyle offers Megan in the first episode of the series. It's difficult not to immediately draw parallels to the peculiar marriage between Tom Cruise and Katie Holmes and the show's premise, especially when rumors circulated that the Church of Scientology had been auditioning girlfriends for Cruise, and that his eventual marriage to Holmes was contracted. 
Like Abrahams, Josh Henderson — who plays Kyle — addressed the similarities but didn't state that the series was inspired by Scientology, Cruise and Holmes.
"I just saw this as a truly unique story," he told the Star-Telegram. "You can see the comparisons considering that Tom's an actor, Kyle West is an actor, they're both huge film stars and it's set in Hollywood. But at the end of the day, we're really telling our own unique story."
Christine Evangelista, who plays Megan, echoed his sentiments in an interview with the Star-Telegram.
"It's natural for people to compare. But very soon, early on, you see that these people have their own history, their own relationship and we're not deriving it from any actual people."
Still, for those who continue to see the show as an adaptation of the Cruise and Holmes marriage, it's important to know that just because the people behind the show haven't directly made the link, it's because legally they may not be able to. 
"It's clear to me that even if I could say that, that I could legally do it, I don't have the authority to say that," Abrahams said at the TCA panel. "It doesn't really matter because it really isn't."
But just because Abrahams can't say anything, doesn't mean people who tuned in can't bring it up. 
Mic has ongoing coverage on the latest in TV. For more information you can check out our TV hub here.
dfs