Britney Spears is now a part-time, stay-at-home runway model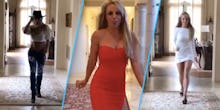 When she's not posting photos of Victorian-era children in powder wigs, in search of those "cool round mats" for her yoga or posting adorable Instagram photos of her new boyfriend Sam Asghari, the legendary Ms. Britney Spears is moonlighting as a runway model.
That's right. On an otherwise ordinary March 3, set to the tune of Desiigner's "Panda," we were given our first glances of Britney's runway walk — three looks; three iconic moments.
"Just doing my own runway show," she wrote, including three flower emojis for mood.
Serving strapless Cher Horowitz (when she goes to party in the valley and is held up at gunpoint):
Serving "I don't care that I wasn't cast in the Broadway revival of The Crucible; Who even is Saoirse Ronan?":
Serving "That's funny, that thing that you said." (Meanwhile thinking "Get the fuck outta here."):
Many thought this Instagram good fortune was merely a flash in the pan. But not so! On Sunday, March 5, this time set to the tune of Beyoncé's "Hold Up," Spears resurfaced with three more runway looks.
"Another day, another runway," the singer wrote, this time adding three high-heel emojis after the text.
Serving world's tiniest white dress that doesn't ride up:
Serving "The Twirl," a follow-up, sister series to NBC's "The Slap" (this one not costarring Uma Thurman):
And just like that, Britney Spears is now a full-fledged model. 
With Paris Fashion Week wrapping up this week, she may be too late to make an official fashion week debut this go-around, but six months from now, watch out Hadids, Ms. Spears is coming for your runway.