This bottle of #BlackStoutsMatter proves not even craft beer is safe from racism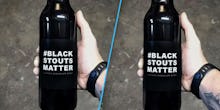 It's hard to believe that given today's political climate, a company would consider co-opting the name for a social movement to market a precious craft beer. Yet here we are, pondering the existence of a beer called #BlackStoutsMatter. 
Ralph Marion, a craft beer aficionado from Birmingham, Alabama, posted a photo of the beer on Instagram after seeing it on a craft beer group on Facebook, he said in an email to Mic. 
"When I saw it, I was wondering if it was a real beer. Then I started to really wonder what other would think about this, so that is when I posted it on my Instagram page," Marion said. 
According to the community Untappd, the stout is made from a home brewer named Birch Church Brewing Co.. Since there's no contact information available for this home brewer, Mic was unable to reach out for comment. 
The name is a beer-themed iteration of #BlackLivesMatter, the social movement with a goal to raise awareness of and rectify systemic injustices against black people. 
One politically tone-deaf user continued riffing on #BlackStoutsMatter name, saying "This one is worth protesting over..." in a comment on Untappd. 
But is it? Does "John S." really think that stout beer is worth protesting over? Do they think that, in any conceivable universe, protesting over beer is similar to protesting against decades of injustices against black people?  
"They made a parody of a very serious issue," Marion said, explaining that there are a lot of beers that "sometimes toe the line of being insensitive but are still funny." 
A few of the more controversial and misogynistic names include: Raging Bitch IPA (from Flying Dog), Brown Angel (from Clown Shoes), Big Beautiful Wheat (from Hailstorm) and Panty Peeler (from Midnight Sun), Thrillist reported
"I just find this being clueless of the times that we are living in right now and how it could make people feel," Marion said of the #Black Stouts Matter beer name. 
Many commenters on Marion's Instagram post said they weren't concerned that the name was riffing on a social movement. 
Some wondered how the beer tastes. 
Others thought the name was pretty tasteless. 
Other brewers have attempted to use politically charged trending phrases to name their brews. Last October, two breweries named their collaboration brew "Stay Woke," Mic previously reported. 
Others in the food industry have belittled #BlackLivesMatter and the Movement for Black Lives with offensive puns. Last year, a restaurant made headlines for a billboard proclaiming "Black Olives Matter" and for selling T-shirts with the slogan.
No, using a politically charged phrase to name your food or drink probably isn't the right way to be engaged; it's a seemingly lazy way to insert yourself into the conversation without taking any substantive action.