Gigi Hadid covers debut 'Vogue' Arabia in a hijab — receives swift and scathing backlash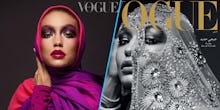 For the first-ever cover of Vogue Arabia, the magazine didn't go for a woman from an Arab nation. It went for Gigi Hadid, a Vogue mainstay who has over 20 Vogue covers to her name worldwide. 
Of course though, since this is Vogue Arabia, it's not like Hadid is posing like she usually does, draped in things like revealing dresses or swimsuits. No, she posed for the cover wearing a beautiful beaded veil that looks like a hijab, with inside images revealing Hadid wearing yet another scarf like an actual hijab. 
"The collage of countries across the Arab world are long-deserving of a place in fashion history, and there's no better first 'face' to lead the charge for Vogue Arabia than Gigi — a model who defines tomorrow's entrepreneurial and dynamic generation," Vogue Arabia's editor-in-chief, Deena Aljuhani Abdulaziz, told Vogue. 
On Instagram, Hadid boasted about the honor. 
"I think the beautiful thing about there being international Vogues is that, as a fashion community, we are able to celebrate, and share with the world, different cultures," Hadid wrote. "Being half-Palestinian, it means the world to me to be on the first-ever cover(s) of Vogue Arabia."
"I hope that this magazine will show another layer of the fashion industry's desire to continue to accept, celebrate and incorporate all people & customs and make everyone feel like they have fashion images and moments they can relate to... & learn and grow in doing so," she concluded. 
But of course, the cover and inside images have birthed their own controversy, with many thinking that it was flat-out inappropriate for a woman like Hadid to be the first-ever cover model for Vogue Arabia, draped in a hijab-like garment no less. 
To some, it's appropriation:
To others, it feels especially unfair to use the hijab as a fashion accessory right now, in light of anti-Muslim legislation and escalating hate crimes against Muslims in the United States. 
And although Hadid did attend a march in New York City against President Donald Trump's executive order on immigration, some people see the Vogue shoot as Hadid only proudly embracing her Palestinian roots when it's beneficial for herself and her career. 
Plus, there are plenty of models who wear hijabs — like Halima Aden — who could have appeared on the first cover of this magazine in her place and made a bigger impact. 
"Hadid is not a Muslim, which means she has no right to wear hijab/niqab, especially when hijabi models rarely land gigs because of their hijabs," Reem El-Shazly wrote for Huffington Post U.K. "Add to that fact that there are a lot of Muslim models in the industry who aren't veiled and a lot of Arabic models working both locally and internationally, which means Vogue had a lot of choices but decided to choose one of the worst ever." 
Though, there are people who are coming to Hadid's defense. She grew up with a Palestinian, Muslim father, after all, so is this really appropriation? 
But still, Hadid doesn't usually wear a hijab at all. Not only that, but even the designer behind the hijabs and scarves Hadid is seen wearing in the shoot isn't Muslim or Arabic. It's Brandon Maxwell, a white designer from the United States who most commonly dresses Lady Gaga. 
As El-Shazly wrote: "Like every other thing on this cover, Brandon has no connection to either culture. Furthermore, there are a lot of Muslim and Arabic designers out there, some of which have been dominating the fashion industry for years, while others are still struggling to make a breakthrough, and just imagine how life changing a Vogue cover would be for a person who is struggling to break into the fashion industry."
Mic has reached out to Vogue Arabia for comment.