Here's what you need to know about the women's strikes on International Women's Day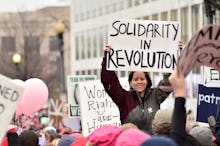 International Women's Day is on Wednesday, March 8, and worldwide, women are celebrating by doing absolutely nothing. Strikes highlighting gender inequality and labor reform have been called across the country and around the globe, along with smaller protests and actions, all under the dual umbrellas of International Women's Strike and A Day Without a Woman.
Here's what you need to know about the women's strikes happening on International Women's Day.
Women's Day encompasses a number of protest initiatives
The strike plan for International Women's Day is, admittedly, somewhat confusing.
International Women's Day is a global celebration of women's achievements that's been around since 1908. Women have been striking on International Women's Day since 1917, Ashley Bohrer, a co-organizer for International Women's Strike U.S., said in a phone interview. The conversation around the U.S. joining a global strike began in October 2016, she said, and picked up steam in February, when a collection of female activists published a call for a women's strike in the Guardian.
The Women's March on Washington organizers announced A Day Without a Woman in early February, on the heels of their national demonstration for human rights on Jan. 21, 2017. While they are working in close coordination with the International Women's Strike, the two events are not the same. 
What's the difference between the International Women's Strike and A Day Without a Woman?
The International Women's Strike is, as the name makes clear, a global endeavor whose participation parameters are broader than those laid out for A Day Without a Woman. The International Women's Strike, understanding that low-wage women might not be able to take time off work, suggests a number of ways to take action alongside a general strike. Women can boycott "chosen local misogynists." They can abstain from sex. They can incorporate black into their ensembles. The platform, Bohrer said, is deeply intersectional, and intended to "stake out a very specific feminism for the 99%."
Similarly, A Day Without a Woman rests on the intersectional feminism espoused by the Women's March on Washington. The strike, however, is slightly different: Women are asked to refrain from doing any kind of labor — paid or unpaid, physical or emotional. Alternatively or in addition, people can show solidarity with striking women by wearing red and refusing to shop, unless they do so at women-owned or small, local businesses. 
Do they share the same goals?
Yes and no.
The organizers behind ADWAW told Fortune that, while they are working with IWS, their central idea came more from the recent A Day Without Immigrants and New York City bodega strikes. They aim to make an economic statement with ADWAW, organizer Tamika Mallory told Fortune:
"Corporate leaders understand the impact of shoppers, especially women, pulling back their support," Mallory said. "The sacrifice of a day will send a resounding message to our administration, corporations that support the administration and any other influencers. We are prepared to make serious sacrifices to ensure our democracy is upheld."
Through a demonstration of financial agency and influence, ADWAW hopes to advocate for wage equality, workers' rights and gender justice. 
International Women's Day operates on similar principles, "a feminism that resists not just sexism, but heterosexism, cis sexism, racism, imperialism, austerity and neoliberalism that really looks [at] and meditates on the intersections and matrices of oppression," Bohrer explained. 
Like ADWAW, this is an economic strike. But its goals are also more expansive: It is a statement against pervasive misogyny in power and the threat it poses to women's safety. Coordinated, global strikes, Bohrer said, represent "a flash point to dramatize the way in which multiple forms of oppression are related to one another and to build collective power toward actually dismantling those systems."
The IWS movement will look different in every city that participates, depending on which issues most urgently affect the area, Bohrer said. Mic will be attending both the IWS and ADWAW rallies in New York City — stay tuned for coverage.
What does A Day Without a Woman look like? Show us! Mic wants to see what your office looks like when women go on strike. Send your stories, photos and videos to ADayWithoutAWoman@mic.com and we may feature them in an article or on our social media channels.