The 'Hamilton' national tour will be coming to 39 cities in 2017 and 2018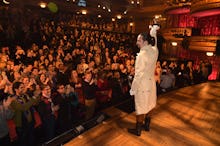 Hamilton, the smash Broadway musical, has hit the road, kicking off its national tour — and a second company is right on its heels. 
The first tour began on March 10 in San Francisco and will end in San Diego in January 2018. The second touring company will begin at the Paramount Theatre in Seattle in February 2018. Other cities include Portland, Oregon; Salt Lake City; Costa Mesa, California; Las Vegas; Des Moines, Iowa; Cleveland; and Minneapolis.
The award-winning musical has been selling out on Broadway since it opened to rave reviews in August 2015. Hamilton, which features book, music and lyrics by creator Lin-Manuel Miranda, went on to break records and win 11 Tony Awards, as well as a Grammy and a Pulitzer Prize.
The demand for the show hasn't lessened, even after the original stars departed the production. In fact, the show has become so popular that purchasing tickets seems an all-but-unattainable goal (one that even ended a relationship), and creator Miranda has even worked to end the use of ticket bots and ensure lawful sales. But if snagging Broadway tickets proves to be impossible, a cross-country road trip may be in store for devoted fans. 
Producer Jeffrey Seller said in a statement, "There has been tremendous interest in the show from markets across the country. The best way to get the show in front of as many people as possible is to form a new company to crisscross the country. Beginning in 2018 more than 8,000 people a night will have the opportunity to see the show somewhere in North America. Indeed, Hamilton is for everyone."
Hamilton tour 2017 cities
The Hamilton tour will play San Francisco and Los Angeles in 2017. 
San Francisco: March 10 to Aug. 5 at SHN Orpheum Theatre
Hamilton tour 2018 cities 
In 2018 you can find the Hamilton national tour hitting these 35 cities. No specific dates have been announced yet.
Atlanta
Hamilton in Chicago and London
Hamilton is currently performing an open-ended run in Chicago and will begin performances in London in November 2017. 
Mic has ongoing Hamilton coverage. Please visit our main Hamilton hub.