Rise With Standing Rock Native Nations March: What to know ahead of Friday's march in DC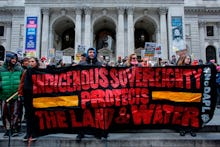 Though the protestors at Standing Rock may have been forced off the front lines in February, the water protectors aren't standing down.
On Friday, Native American groups and their allies will converge in Washington D.C. to march for tribal rights at the Rise with Standing Rock Native Nations March. 
Here's what you need to know about the upcoming demonstration.
Organizers
The march, as noted on the Stand with Standing Rock website, is being planned by the Native Nations Rise Planning Committee. 
The organizers leading the charge, the website notes, are members of "Tribal Nations and grassroots Indigenous communities rising to the call set forth by the Standing Rock Sioux Tribe to defend our inherent rights to protect Unci Maka and our water: Mni Wiconi."
Demands
Though the protest is born out of the Standing Rock movement and fight against the Dakota Access Pipeline, Friday's protest is a broader call for the tribal rights.
The protestors, as outlined on the Standing Rock website, are demanding a meeting between President Donald Trump and tribal leaders about the critical importance of tribal rights. They also demand that corporate and government interests not be favored over tribal interests, and that projects must require not just the consultation, but the consent, of the native people it will affect.
Finally, the protestors acknowledge that the Standing Rock movement has evolved into a "powerful global phenomenon" highlighting the need to respect Indigenous Nations and their rights. The organizers are asking that their "Native relatives from across Turtle Island" join in solidarity with the Standing Rock protestors.
Where & when
The Washington march will take place on Friday beginning at 10 a.m. Eastern time. 
The march will begin at the Army Corps of Engineers Headquarters, which is located at 443 G Street NW.
The march will then make its way to the White House, where it will end with a rally at 12 p.m. in Lafayette Square.
There will also be a Tipi camp set up in Washington from March 7-10 on the northwest grounds of the Washington Monument near the White House. The camp, which is symbolic and will not allow for overnight camping, will offer a daily water blessing and cultural workshops and presentations. A complete schedule of events can be found here.
To learn more about the Native Nations March, visit the Native Nations Rise website.