Kellyanne Conway went on Fox to defend Trump's wiretap tweets and it didn't go so well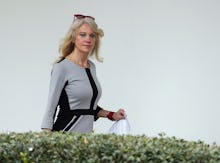 Kellyanne Conway can spin almost anything into a positive for the president. But Conway's latest defense of President Donald Trump's wiretap allegations may not have been as persuasive as she'd hoped.
In a Monday interview on Fox & Friends, Conway seemed to admit Trump hadn't provided any evidence supporting his claims that former President Barack Obama had bugged Trump Tower, even to his top advisers. The only possibility? Trump knows something she doesn't, Conway suggested.
"He's the president of the United States," she said. "He has information and intelligence the rest of us do not. And that's how it should be for presidents."
While Conway likely sought to lend Trump's accusations some credibility and make Trump himself appear more presidential, her comments instead resonated closely with a narrative that Trump's team was completely blindsided by his wiretap claims. 
"One White House official said he woke up Saturday morning to Trump's tweets and grimaced," Politico reported on Saturday. "It was unclear, this person said, where the president had gotten the idea, but that it likely wasn't from an official source."
Meanwhile, White House spokesperson Sarah Huckabee Sanders gave NBC a similar story as Conway Monday morning, telling anchor Savannah Guthrie that Trump must have evidence he can't share with lower-level administration. 
"I haven't had the chance to have the conversation directly with the president, and he's at a much higher classification [level] than I am, so he may have access to documents that I don't know about," Sanders said. 
"But I do know that we take this very seriously, and we think it should be thoroughly reviewed and investigated."
FBI Director James Comey has asked that the Department of Justice make a public statement renouncing Trump's allegations, suggesting that if the Trump administration plans on sticking to their guns on this theory, there's a long and arduous road ahead.