The Supreme Court is sending Gavin Grimm's case back to a lower court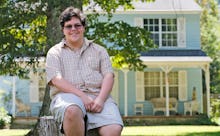 The case of transgender 17-year-old Gavin Grimm, who is fighting for his legal right to use the boy's bathroom at his Virginia high school, won't be decided by the Supreme Court, the Associated Press reported on Monday. Instead of hearing arguments later this month as scheduled, the highest court in the land is handing Grimm's case back to a lower court in Virginia. 
The Supreme Court justices said that they have chosen not to decide whether or not federal anti-discrimination law extends to protecting Grimm's right to use the school bathroom that matches his gender identity, the AP reported. The court's decision comes after the Trump administration's announcement that it was reversing a guidance issued by former President Barack Obama that directed public schools to allow trans students to use bathrooms consistent with their genders.
Advocates for trans rights had been hopeful that the Supreme Court's ruling on Grimm's case could set a nationwide precedent in favor of protecting the legal rights of trans people. Joshua Block, lead counsel on Grimm's case, told Mic in February that it was "incredibly important for the Supreme Court to weigh in" on Grimm's case because of the Trump administration's recent actions. "The costs are a lot higher for trans kids now than they were a few months ago," Block said.
But now the case will return to a Virginia court, which will have to rule again on whether or not Grimm has the right to use the boy's bathroom at his school. In a series of tweets on Monday, Block called the news disappointing but said that it's "a detour, not the end of the road."
March 6, 2017, 10:42 a.m.: This story has been updated