Who is Sarah Huckabee Sanders? Meet the Trump spokesperson and daughter of Mike Huckabee.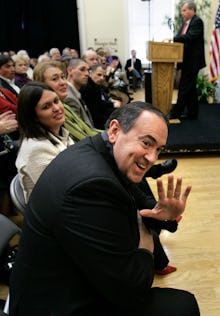 On Monday morning, White House spokesperson Sarah Huckabee Sanders appeared on NBC's Today to defend President Donald Trump's explosive claim — offered without a single shred of evidence, and apparently to the surprise of his own staff — that former President Barack Obama had wiretapped him during the 2016 election. 
It did not go well.
Saying that she had not spoken with Trump, Sanders repeatedly failed to answer simple questions about the source of the president's information and instead complained about negative media coverage of the administration — using a peculiar metaphor. 
"If the president walked across the Potomac, the media would report that he couldn't swim," Sanders said. "All we're asking is that the same standard be applied to this president as the past president, and let's look and let's get the details and let's put those out there for the American people to make a decision."
"Well, to be fair," Today host Lester Holt responded, "I think we are trying to get the details from you right now."
So who is Sarah Huckabee Sanders, Trump's deputy White House press secretary?
She is Mike Huckabee's daughter
Sanders is the daughter of former Arkansas Gov. Mike Huckabee. She worked on her father's failed campaigns for president in the 2008 and 2016 races. She also worked as a field coordinator on his 2002 gubernatorial re-election campaign, as well as on George W. Bush's 2004 presidential re-election campaign. More recently, she's served as the executive director of Huck PAC, her father's conservative political action committee. 
She is a political consultant
Sanders managed Arkansas Republican John Boozman's successful Senate campaign in 2010. She also worked as a senior adviser to former Minnesota Gov. Tim Pawlenty and Arkansas Sen. Tom Cotton. 
She founded the consulting firm Second Street Strategies at which her husband is a partner. 
She was named one of Time's "40 Under 40" in 2010. In an interview with the magazine, she cited her father as her political hero.
"He's an amazing politician, but an even better parent," Sanders said. "Everyday he challenges me to be a better person and I will forever be grateful for that."
Outside of politics, she's served as an adviser to corporations and as a manager for U2 singer Bono's One campaign, a nonprofit advocacy organization focusing on global poverty and preventable disease. 
She was a senior adviser to the Trump campaign
After her father dropped out of the 2016 presidential race, Sanders joined the Trump team as a senior adviser. 
" I volunteered to join Mr. Trump's campaign because he is a champion of working families; not Washington-Wall Street elites," Sanders said. "Like the other Republican candidates, Mr. Trump is pro-life, pro-marriage and will appoint conservatives to the courts. What makes Mr. Trump my choice for president is he will break the grip of the donor class on our government and make it accountable to working families again. I'm honored to help Mr. Trump make America great again."
During the Republican primary, she criticized Trump's opponents for what she described as negative rhetoric.
"I keep hearing all these pundits and people from the media and other politicians talking about how bad Donald Trump is for America and, in particular, how bad people are that support Donald Trump," she said on CNN. "My thing is that they're not bad for America, they are America."
In May, Sanders defended Trump when he accused Hillary Clinton of playing the "woman card."
"The person that is playing the woman card is Hillary, not Donald Trump," Sanders said on ABC's This Week. 
She joined Trump's communications staff in September 2016, and was named deputy assistant to the president and principal deputy press secretary on Jan. 19, 2017.